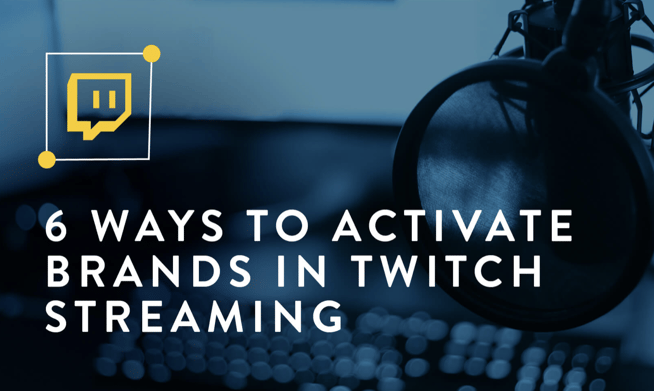 During the temporary sports shut down, gaming entertainment has never been more popular. While sports fans may have been stuck inside, live streaming sites such as Twitch and YouTube Gaming saw an average growth of 10% in viewership in March 2020 alone.
Esports tournaments such as the LCS, ESL Premier League (EPL) and Flashpoint ran online broadcasts with players competing from their homes.
These unprecedented challenges brought an opportunity for brands to engage creatively in the digital space. Curious about Twitch streaming, but unsure of where to start?
Here are 6 methods for effective sponsorship on Twitch:
1. Overlays
Rotating graphics on the sides and corners of a stream offer one of the most valuable sponsorship assets in esports and live streaming. With full logo clarity and frequency (rotating every few seconds), key placement in the stream ensures quality exposure without distracting from gameplay.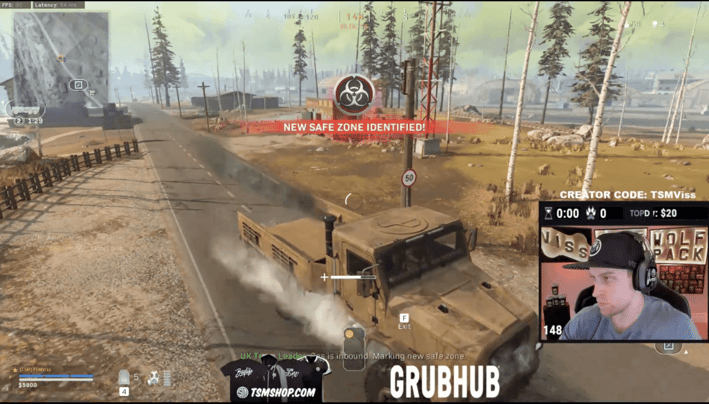 2. Custom Segments
Imagine sponsored segments in traditional sports broadcasting, then apply those principles to esports. Sponsored action segments in an esports broadcast such as the Play of the Game, Replay or MVP Award connect brand partners to key value driving moments.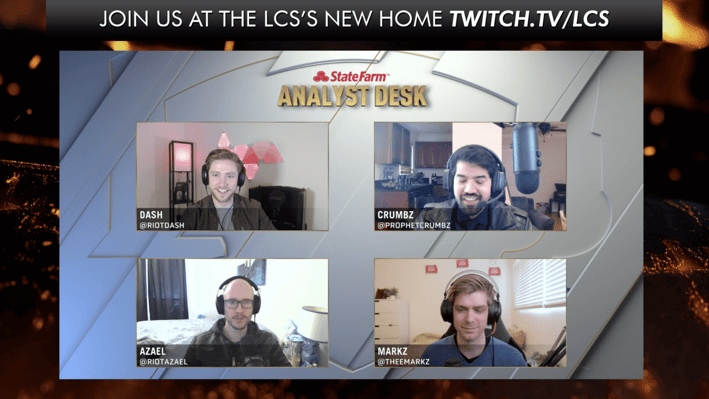 3. Product Placements
Ninja became a household name on Twitch (before moving to Mixer) while wearing his trademark Red Bull bandana. Top streamers advertise their sponsors within their visible webcam space with a mix of branded apparel, hardware, peripherals, beverage cups, fridges and more.
4. Giveaways
TwitchChat offers an engaging platform for hosting live product giveaways directly to viewers. Streamers utilize a mix of audio mentions, product unboxing demos, social media posts and entry click-through conversions to generate value for brand partners.
5. Charity Streams
Live streams are a fun and productive way to connect with Twitch viewers while fundraising for charity. Nonprofits such as St Judes and StackUp.org partner heavily with the streaming and esports communities to run fundraiser broadcasts. One or multiple can stream for hours, or even days at a time while raising donations through their Twitch audience.
On March 20th, 2020 esports organization 100 Thieves partnered with CashApp to host an online Warzone charity tournament. Proceeds were donated to charities of the winners' choice, and back to TwitchChat viewers by way of their Cashtag.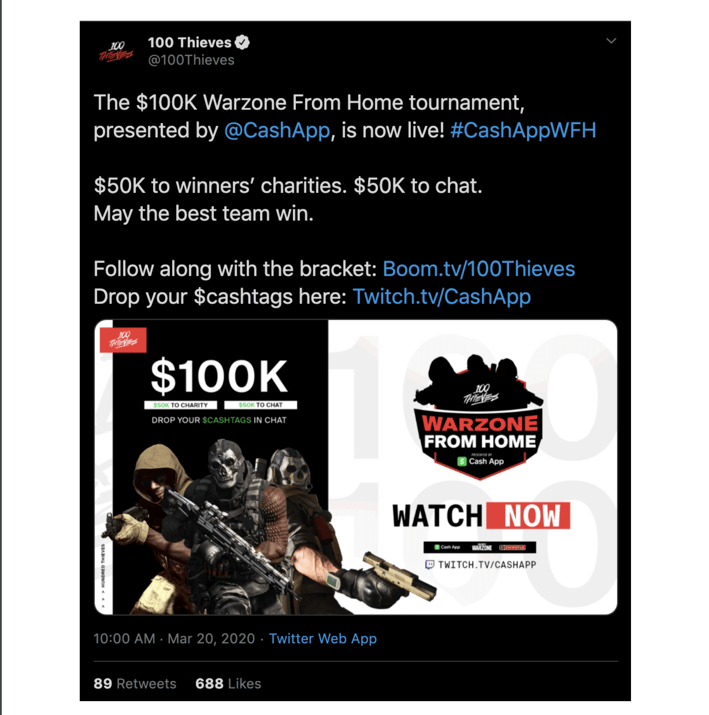 6. Chat Bots, Panels, !commands and other channel branding
Twitch and other third parties offer a wider variety of ways to customize your channel's branding. From panels below the stream linked to the brand website to automated chat links, featuring partners across the channel is quick and seamless. Chat commands allow channel moderators to filter unwanted language and maintain brand safety.
Summary
Since traditional sports leagues were suspended or postponed due to social distancing mandates, teams and players turned to live streaming to create content. On March 13, 2020 the Phoenix Suns began streaming simulated NBA 2K games from their team Twitch channel. And professional athletes such as Devin Booker and Meyers Leonard have turned to playing Call of Duty: Warzone and a variety of other games alongside popular Twitch influencers.
If you're new to Twitch and don't know who to watch, check out popular streamers such as Timthetatman, CohhCarnage, DrLupo, or Annemunition.
Relo Metrics is a sponsorship analytics platform that measures sponsorship value in sports and esports. To support overlay deployment, tracking and reporting, Relo Metrics has developed the Streaming Management platform.
Follow this link to learn more about Relo Metrics and request a demo.
Interested in learning more about sponsorship opportunities in esports? Check out the Esports Guide.
Written by Tia Smith