We know you love to deep dive into your social media posts—analyzing your social performance and valuation from the most viral moments down to the smallest exposure-level detail.

In order to enable even more power into your social media analysis, we have released infinite scroll capabilities to the Social Media Posts page within Media Value Center. After scrolling to the bottom of that page, click the "Load More" button to populate the next batch of posts.

We hope this feature makes it easier than ever to unlock the value of your social media presence. The feature is already live for Relo Metrics clients, so check it out now.
Overview
Relo's new Infinite Scroll feature on the Social Media Posts page gives you the ability to load additional posts after reaching the bottom of the page until there are no more left to view.

Common Use Cases
Viewing the entirety of posts that make up a certain set of filters
Assigning more than 100 posts to a collection at once
Exporting a CSV of all desired social posts for a particular sponsor or placement
Functionality
After scrolling to the bottom of the page you can click the "Load More" button to generate the next set of posts that meet your filter parameters.
The number of new posts that will display is based on the total set in your "Amount" dropdown. That is, if you have it set to 100, the next 100 posts will load.
The grey arrow button at the bottom right will jump to the bottom of the page.
If you've loaded all the possible posts you will see a note telling you that you have reached the end with an arrow button to jump back to the top.
All new posts that are loaded will appear in the table in the "List View" as well
Exporting as CSV will download the entire dataset of posts you have loaded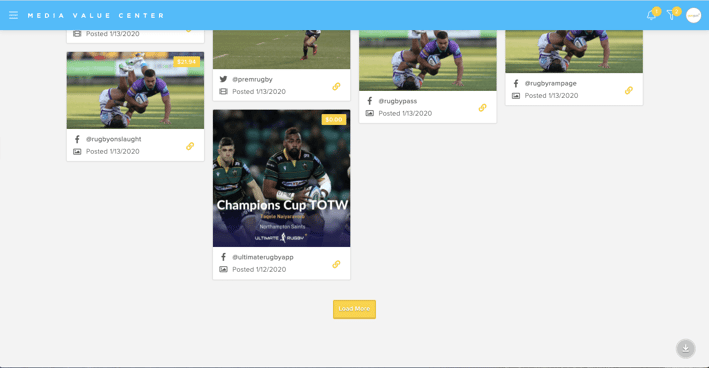 Mini Case Study With Kroenke Sports & Entertainment

Kroenke Sports & Entertainment (KSE) is an American sports and entertainment holding company based in Denver, Colorado. They are committed to providing world class sports and entertainment for both live and broadcast audiences. Relo Metrics provides sponsorship valuation services for two of KSE's properties - Denver Nuggets and Colorado Avalanche.

Recently, we reached out to Jennifer Edwards & Lauren McDermott, two Senior Account Managers on the Partnership Marketing & Media Sales team to ask them how infinite scroll has impacted their work.

1. How has your team leveraged infinite scroll on the Social Media Posts page?

JE: The infinite scroll has been a HUGE time saver in pulling monthly reports for partners. Just as a whole I think it's beneficial to have ALL of our partners posts/data in one place.
LM: As for Jen (and for everyone), this has allowed our team to pull full reports all at once rather than have to pull multiple in smaller time frame increments.

2. What challenges did your team face when you were limited to view only 100 social posts at a time?

JE: Pulling monthly reports used to take at least 30-45 minutes when we were limited to only viewing 100 posts at a time. To pull a monthly report I would have to pull data from a 1-2 day time frame and then combine it all together to get the full month.

LM: Similar to above, prior to the scroll we were forced to pull reports on day-to-day increments to stay on top of the post tracking (especially after games when there was a flood of content). This was difficult not only timing-wise, but it was very easy to fall behind on. In general, I've felt that I missed a lot more posts than I am now using the infinite scroll feature.

3. What value do you get from the post-level granularity in the Social Media Posts page?

JE: Providing post level data is required by a few of our clients. For me, the value I see in post level data is to be able to compare certain types of posts our social team puts out to see which perform better. Being able to analyze the same content on different platforms, or seeing if a concept works better as a photo vs a video is helpful.

LM: As Jen mentions, some partners request this info and like to have a VERY holistic picture of what value is being derived from certain posts. This has been helpful for me in comparing the jersey patch logo this season to previous seasons (after the logo change) and seeing the performance of the patch in videos vs. images to those last season.

4. As a team, you have created quite a few Collections. How has your team leveraged the Collections feature?

JE: It's helpful when looking at one specific campaign/promotion that occurred. Adding these posts into a collection ensures I didn't miss any when looking at the overall posts in that timeframe.

LM: I have put together several collections, mostly for the sake of organizing the various campaigns our sponsors have had over the course of the season. Some sponsors are contracted for specific deliverables for each campaign, so I find it much easier to group/organize each in a collection for tracking purposes and proof of delivery. I also find it helpful in ensuring I haven't missed any posts along the way. When pulling a report from the Social Media Posts page, you are able to see the collection(s) a post has been assigned to or not, which makes it much easier to identify any posts I might have missed previously.
Written by Guy Dotan