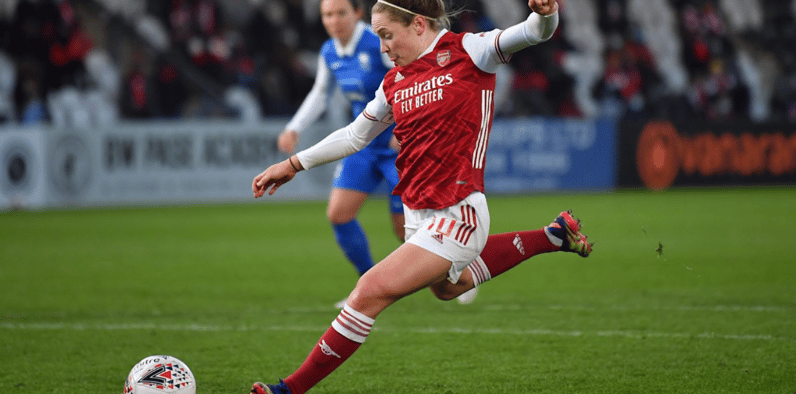 The recent years have undoubtedly seen a significant surge in the growth of women's sports. In 2019, the FIFA Women's World Cup held in France set a record of 1.12 billion viewers across all platforms. Now the 2023 FIFA Women's World Cup has kicked off—and brands that are keen on jumping on the women's sports bandwagon can expect a tremendous opportunity. Let's discuss what to anticipate as a sponsor of the event, and what trends to look out for in the viewership of women's sports that can benefit brands that sponsor women's soccer teams.
According to an article on Marketing Brew, ad inventory for the 2023 Women's World Cup in Australia and New Zealand is almost sold out, with over 90 percent of it already spoken for. This reflects a trend towards data-driven decision-making in sports marketing, as teams and advertisers seek to gain a competitive edge and reach new audiences through effective sponsorship strategies.
Significant Growth in Viewership
One of the most significant trends in viewership in women's sports over recent years has been its steady rise. In 2015, the Women's World Cup final between the U.S. and Japan became the most-watched soccer match in U.S. history with more than 25 million viewers. While this number may seem small compared to the men's World Cup, the growth rate has been enormous. The 2019 World Cup broke multiple records in viewership across various platforms, with millions of viewers tuning in from around the world. Brands that sponsor women's soccer teams can take advantage of this growth trend by aligning their brand with the values that women's sports represent.
The Impact of Women's Sports on Brand Perception
As the viewership of women's sports continues to rise, it presents a unique opportunity for brands to associate their company with a positive image. Female athletes are seen as symbols of strength and empowerment, and fans that follow their achievements tend to showcase strong loyalty to the brands that back up their favorite players. Brands that sponsor women's soccer teams can thus leverage this association and reinforce their brand perception as a promoter of gender equality, diversity, and empowerment.
The Larger Audience is More Engaged
Women's soccer is gradually gaining attention not only from sports enthusiasts but also from a larger audience base. Viewership analytics show that women's soccer has become a catalyst for families and communities to come together and bond over sports. This presents an opportunity for brands to establish an emotional connection with their audience base. By taking advantage of this trend, brands can build lasting and valuable brand loyalties with their consumers that can transcend the individual sport.
The Women's Sports Market is Underdeveloped
Compared to the men's sports market, the women's sports market is significantly underdeveloped and thus provides ample opportunity for branding. The 2023 Women's World Cup holds a promise of becoming an event to appreciate and celebrate talent in women's sports on a global stage. Brands that show support for women's sports stand to be a part of the movement and make an impact using their corporate social responsibility efforts. Sponsoring a women's soccer team at the World Cup can also pave the way for long-term investment in the women's sports market.
The 2023 FIFA Women's World Cup holds a promise not only for women's sports but also for brands that are interested in building a lasting brand image. The growth in viewership and engagement—among other trends happening in women's sports—presents a uniquely valuable opportunity to brands that are keen on developing their association with female athletes and the values they embody. Brands that align themselves with women's sports will be perceived as promoters of equality and diversity and undoubtedly benefit from heightened brand loyalty. The FIFA Women's World Cup is thus an event worth pursuing for brands that intend to make a positive impact and take part in a movement that will continue to grow in the coming years.