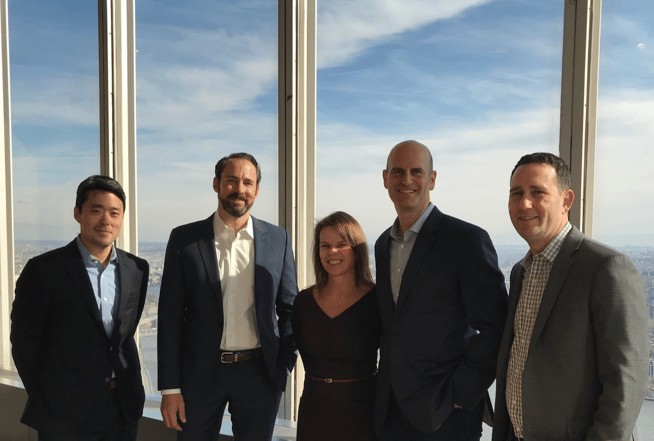 The nature of sports sponsorships is changing before our eyes. The industry is heading toward a more customized sponsorship model, fueled by innovative technology that is driving cross platform engagement with near real-time measurement.

GumGum invited industry leaders from US Olympic and Paralympic Properties (USOPP), Citi, Horizon Media and Scout Sports and Entertainment to a panel discussion to get their perspectives on the latest trends, and how they envision sponsorships changing into 2020 and beyond.

We were joined on the panel with:
Ryan Djabbarrah, SVP Corporate Sponsorships and Marketing at Citi.

Hayle Chun, Marketing, Partnerships and Digital Media Exec from USOPP.

Michael Neuman, EVP Managing Partner at Scout Sports and Entertainment.

Alex Stone, VP Digital Investment at Horizon Media.

Here are some of the key takeaways from the event:

1. Sponsorships are Evolving to be More Value and Mission Driven.
By thinking of sponsorships as mission-oriented, properties and brands can make theirs more effective. Aligning values between fans and partners helps create customized, multi-channel sponsorships, with room to refine over time, rather than the traditional 'cookie-cutter' approach.

Ryan Djabbarrah from Citi noted that the company is proud of its involvement in the Paralympic movement and how the brand is deeply committed to galvanizing the world around the movement. The focus of their sponsorships and activations has become less about just business metrics and more about diversity and inclusion.

Hayle Chun from USOPP spoke about how the company is fundamentally focused on the future, as their events are planned so many years in advance. By working with partners to understand mission-based goals, they are able to be more effective at achieving these goals. This adaptable approach means they are less influenced by factors that are outside their control, such as evolving consumer platforms and behavior.

2. The Most Effective Sponsorships are Cross-Channel and Hone in on the Passion of Their Fans.

Over the years, brands have gotten more creative in finding ways to align their brand values with the passion of sports fans across multiple channels, but the industry has a long way to go before their sponsorships can truly make the biggest impact.

An example of a fan-focused sponsorship that was discussed during the panel was a partnership between a large QSR brand and media and entertainment company WWE, most known for professional wrestling. The brand noticed that their audience tended to also have a passion for sports and entertainment, so they partnered with WWE in a sponsorship series that aligned this passion to galvanize this target audience.

Alex Stone, who oversees digital partnerships at Horizon Media, explained that having a solid sponsorship syndication plan that incorporates native advertising, paid social and other digital distribution channels helps brands ensure that their core sponsorship is seen by the most eyes across a variety of diverse channels.

3. The Sponsorship Industry is Shifting to a Performance-Based Model.

Cutting-edge brands like ABinBev are shaking up the way they measure sponsorships, by moving toward a performance-based model where objectives and KPIs are written into contracts and payment is only made when rights holders are able to deliver on those objectives. Michael Neuman, from Scout Sports and Entertainment, explained that with this new model, rights holders are held highly accountable to deliver on sponsor goals, and this monumental shift is likely to result in a wave of sponsors following suit.



2020 and Beyond...
The rapid evolution of smartphones, social platforms and the multitude of OTT service providers, makes it hard to imagine what the sponsorship landscape will look like in 2020, much less 2030! Nonetheless, we challenged our panelists to make bold predictions about what's to come, in the next decade, of sponsorships.

Here are their predictions:
Innovative solutions and partnerships will help brands have a better cross-channel understanding of their sponsorships.

The purchasing of digital media, such as OTT, will be done programmatically.

Advancements in technology will make it possible for sponsorships to understand the consumer like never before, in order to: Gain better audience insights, improve understanding of customer lifetime value and enhance contextual targeting capabilities and CRM.

Brands will play a huge role in influencing change when it comes to social topics like gender equality
Want to find out more? Check out the Future of Sponsorships guide.


Written by Bayli Stefl