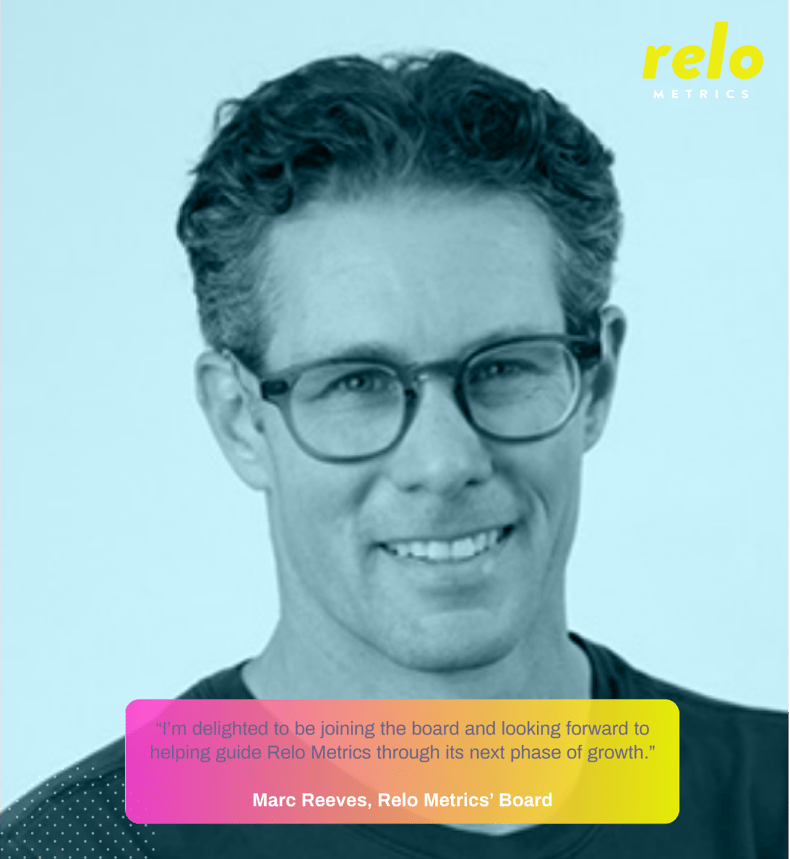 Sports industry veteran brings deep marketing, commercial and digital expertise to the sponsorship analytics leader.
Relo Metrics, the AI-powered sponsorship analytics platform formerly known as GumGum Sports, today announces that Marc Reeves, Head of Brand for Football at Nike, has joined its Board. Reeves' addition follows the spin-off of Relo Metrics' business from its parent company GumGum Sports in May, with the launch of Relo Metrics' own independent brand and corporate structure to drive strategic growth and investment opportunities.
"We are extremely proud and excited to welcome Marc to the company," said Relo Metrics' CEO Brian Kim. "Marc joins Relo Metrics' Board at an exciting time for our business. We have built the industry's most advanced sponsorship analytics platform, providing rights holders and brands with near real-time data and insights that allow them to proactively measure, benchmark, and optimize their sponsorship assets in a faster and less fragmented process across broadcast, streaming, social media and in-venue. Marc's experience working at some of the world's most successful brands and leagues will be hugely valuable as we continue to grow our platform and bolster our reputation as the gold standard in sponsorship measurement."
Reeves has worked at Nike for over six years, starting as GM for Nike+, responsible for the company's connected membership ecosystem. In his role as Head of Brand for Football, Reeves is the consumer and marketplace lead for the company's business across NFL, NCAA, High School, Grassroots, and Performance.
Prior to joining Nike, Reeves' career highlights include the NFL's first ever International Commercial Director, where he led partnerships and marketing for the league outside of the US, Managing Director for NFL Canada and Vice President, Consulting at IMG (now Endeavor), where he led the agency's global relationships with Visa, Electronic Arts, and Wells Fargo.
Commenting on his appointment to Relo Metrics' board, Marc Reeves said: "As sports and entertainment consumption has evolved and converged across media channels, many stakeholders continue to rely on legacy measurement processes that are slow and fragmented. Relo Metrics' solution allows brands and rights holders to seamlessly analyze and optimize their sponsorship assets across broadcast, streaming, social and in-venue from one platform, giving them more control and agility in driving better outcomes for their sponsorship. I'm delighted to be joining the board and looking forward to helping guide Relo Metrics through its next phase of growth."
Alongside his role on Relo Metrics' board, Reeves is also an investor and advisor across various sports properties including Leeds United, Cancun FC, Blue Crow Analytics, Warwick Investment Group, and Cloud9 esports. In addition, Reeves is a Techstars Sports Mentor and is on the Advisory Board of the Tulane Sports Law Program.
Read the full story here.
About Relo Metrics
Relo Metrics is an AI-powered sponsorship analytics platform that enables brands to track and optimize their sponsorship investments and powers teams and leagues with the insights they need to retain and grow revenue. The company tracks sponsor exposure across live broadcasts, social media streaming platforms, and in-venue, and delivers actionable insights via a fast, single solution platform. For more information, visit relometrics.com