Sports across the globe were impacted immeasurably by COVID-19. Stadium doors closed, seasons suspended, events cancelled, and fans quarantined in their homes with sports networks running re-airs of past games. As people searched for new ways to interact and socially connect, live streaming emerging as the leading form of entertainment, and Twitch is at the forefront.
Originally created as a platform for streaming video games, Twitch has grown rapidly over the past 10 years to support a wide range of online content. Viewers can not only watch their favorite entertainer, but interact with them in real time through TwitchChat, subscriptions, donations and more. The sports industry and Twitch have grown more intertwined over the years, but COVID is changing the game.
Pro athletes, teams and entire sporting events are moving to virtual simulations on Twitch and other streaming platforms to create digital content while everyone's stuck inside. For some NBA players, streaming video games is nothing new. Josh Hart claimed to have been streaming on Twitch long before it was popular.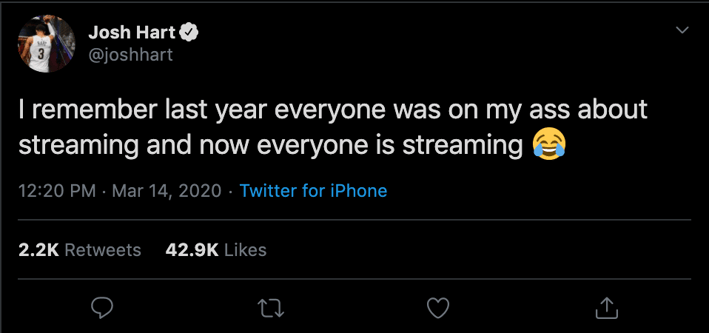 Gordon Hayward has been partnered with HyperX since 2016, and still features the brand's logo in each of his Twitch streams. Meyers Leonard joined well-known esports org Faze Clan in April of 2019, and has advertised their apparel and streamed under their banner ever since. NBA players' love of video games is well documented, but a full shutdown of the NBA is making video games and live streaming some of the only safe pastimes. After March 11th, 15 more NBA players began streaming on Twitch, and their fan base followed. Overall, Twitch viewership increased by 10% throughout the last month.
Relo Metrics, an AI-powered sponsorship analytics solution, measures a variety of esports clients on Twitch. Relo noticed an uptick in NBA player streaming, and measured the top 10 NBA players who streamed in March 2020: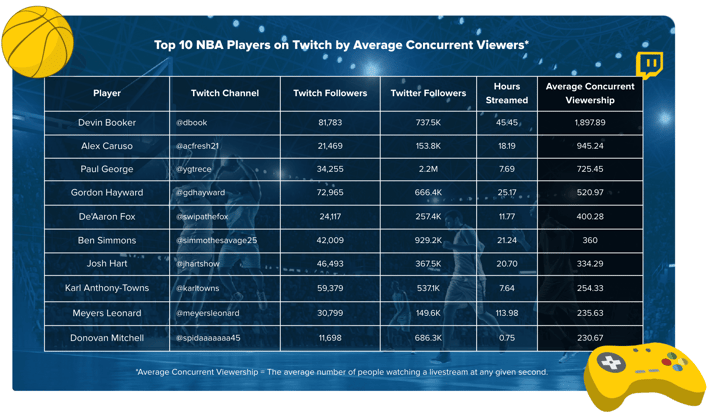 On March 11th, Devin Booker reacted to the NBA suspension while live streaming esports personality and team owner Matt "Nadeshot" Haag on Twitch. The viral moment caused Booker to see a drastic increase in his average concurrent viewership over the following weeks. Before his rise to streaming stardom, the NBA All-Star averaged 528 viewers at any given time. His viewership nearly tripled over the following weeks, peaking at 1,956 concurrents.

Longer streams haven't yielded high viewership for all players. Meyers Leonard racked up nearly 114 hours of gaming content, or about 3.5 hours every day in March. Despite being a member of Faze Clan and streaming with consistency, Leonard's viewership ranks below Devin Booker, Alex Caruso, and Paul George. So what are these players doing right?

Devin Booker and Alex Caruso routinely post on twitter about their streams, and tweet a link to their Twitch stream each time before they go live. Cross promotion allows players to connect their fans from across their social platforms. Paul George has the highest twitter following (2.2M), but because he hasn't utilized his social accounts to promote his streams, his following on twitch is not as strong.
The esports community is just that, a community, and these kinds of connections are key in developing an audience on Twitch. Booker routinely streams with well known streamers like Nadeshot of 100 Thieves, and his viewership and following on the platform have benefitted from that. With the support of the Phoenix Suns, Booker ran a Twitch fundraising campaign to support COVID-19 relief efforts.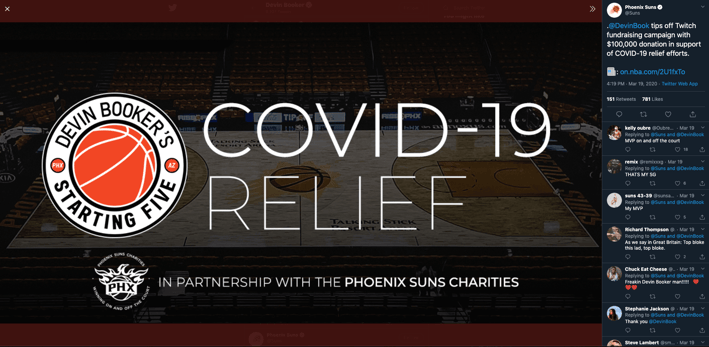 Another key in finding success on Twitch is choosing the right game to stream. While these NBA streamers played a variety of games, there was a clear favorite. Call of Duty: Modern Warfare made up about 86% of the hours streamed by the players on this list. With the new battle royale gamemode Call of Duty: Warzone releasing on March 10, the game saw a boost in viewership and was the 2nd most watched game on Twitch in March.
It's also interesting to note that the NBA players did not play sports games as often. However, FIFA 20 saw the highest average viewership of the games streamed. NBA 2k20 recorded the lowest average viewership, which may come as a surprise, but it seems that some NBA players have strong feelings about the title. The viewership breakdown for these games is very interesting as a traditional esports game like LoL is not as popular among those watching NBA streamers, and FIFA 20 seems to have performed better than average.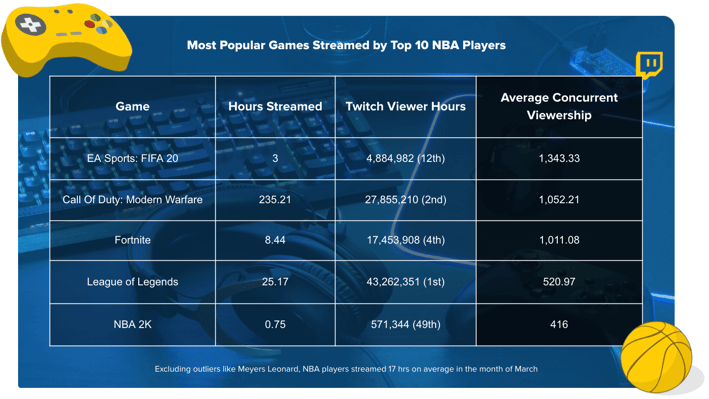 Through watching the success of their players, teams have been catching on to the Twitch On March 13th, the Phoenix Suns created a team Twitch channel, where they stream simulated NBA 2K games. These games include players such as Mikal Bridges & Tariq Owens, as well as Phoenix Suns staff and talent from the NBA 2K League. The Suns utilized cross platforming, partnering with professional athletes from the NFL and MLS. They simulated a Suns home game against the Clippers using two top NFL athletes: Keenan Allen from the Chargers and Tony Jefferson from the Ravens. In less than a month, the Suns have grown their Twitch following close to 7K.

During this unprecedented time, it is essential for sports properties, teams and athletes to find creative and alternative ways to engage. These NBA stars are utilizing streaming to connect with fans, extend their brand endorsements and create a competitive medium while remaining safe and practicing social distancing. This has resulted in increased viewership and yielded thriving online communities that entertain and connect people from their couches.
Learn more about the sponsorship opportunities that esports has to offer and how to activate your brand on Twitch. Visit relometrics.com to learn about Relo Metrics' sponsorship analytics capabilities.
Written by Antoine Laurient, Hugh Gayler, and Tia Smith