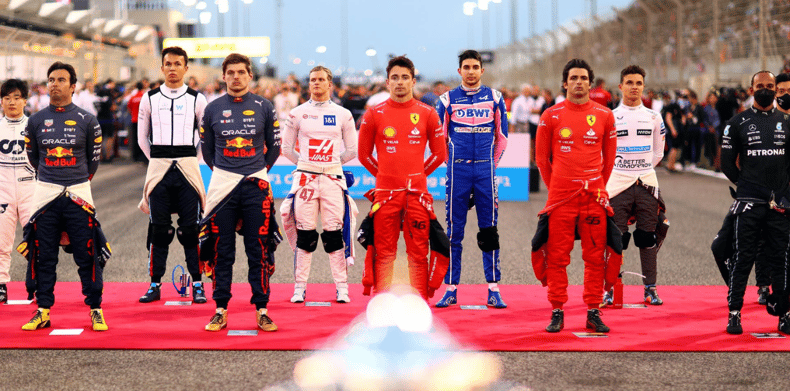 In the world of sports, storytelling has become a powerful tool for attracting and engaging fans. The rise of sports documentary series such as Drive to Survive, Breakpoint, and Full Swing on major streaming platforms such as Netflix and Apple TV are creating more fans and enthusiasts for sports that otherwise may have been less mainstream. These stories of struggle, triumph, and the human experience of athletes are intriguing to both casual and hardcore fans alike. The power of sports storytelling is a fascinating trend to watch and is changing the way we view and appreciate sports.
During the 2023 SBJ World Congress of Sports Conference, the keynote conversation "The Power of Sports Storytelling" with Paul Martin, co-founder of Box to Box Films, and Chris Smith, reporter of Sports Business Journal, dug into how the landscape of sports on streaming platforms is evolving with some of today's most popular shows.
Not only are these documentaries making an impact on our day-to-day obsessions with binge-watching on Netflix, but they're also making a real difference in viewership for the sports industry and ultimately for the media sponsors.
The Relo Metrics Insights team dug into one of the datasets, following Netflix's original immersive documentary series, Full Swing, and tracking sponsor media value for PGA stars Joel Dahmen and Cameron Young. Before and after the show, both players saw massive growth in social media engagement and sponsor media value.
Dahmen's social media engagement grew by over 300 percent from 2022 to 2023, and Young's grew by over 1100 percent, reflective of the time period when viewers around the world started to watch and fall in love with the show Full Swing.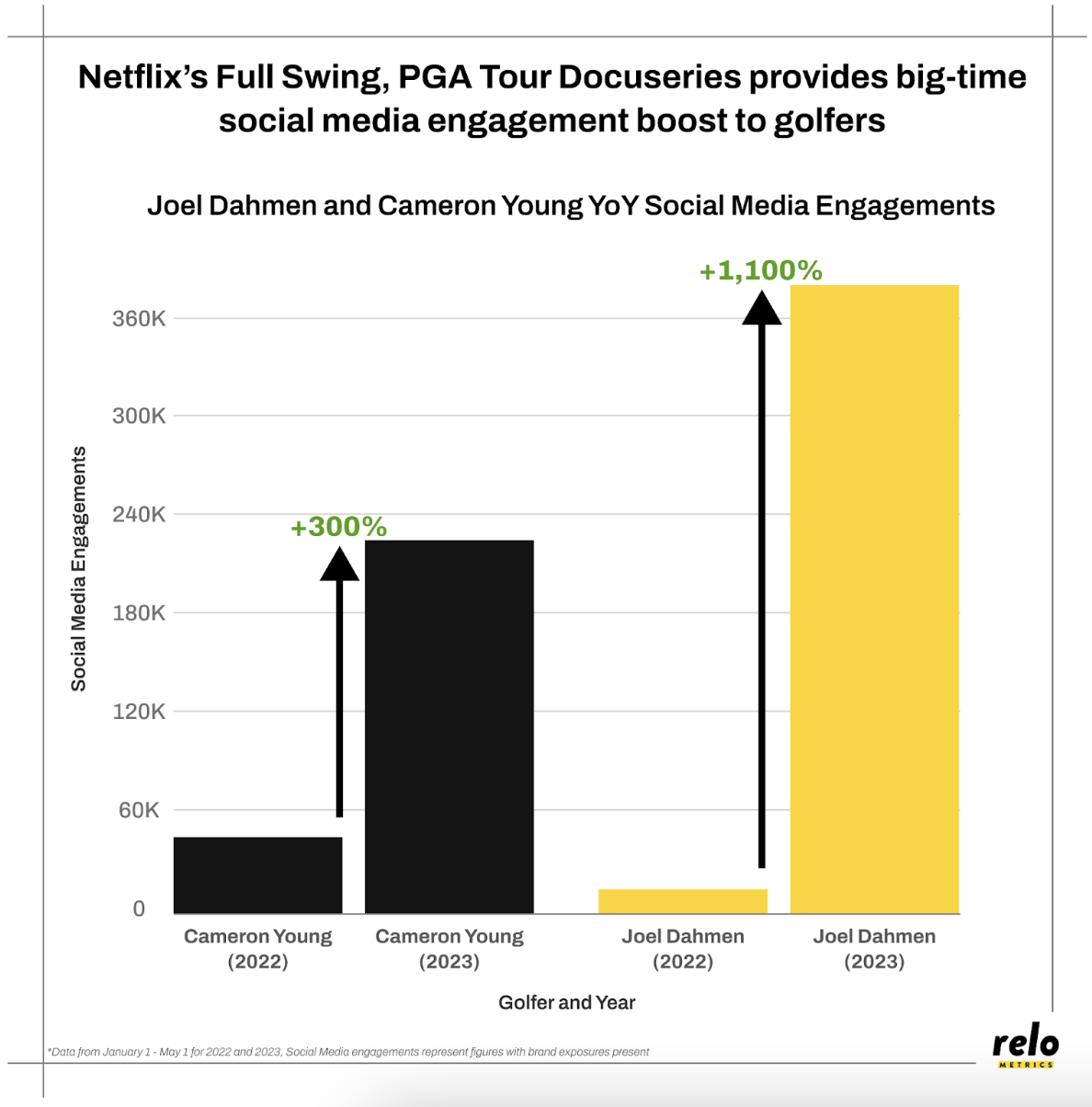 The behind-the-scenes footage with PGA golfer Joel Dahmen and his caddie Geno Bonnalie led to significant year-over-year growth, not only in social media engagements that grew over 1600 percent from 2022 to 2023 but also in the Sponsor Media Value per post that increased by 665 percent.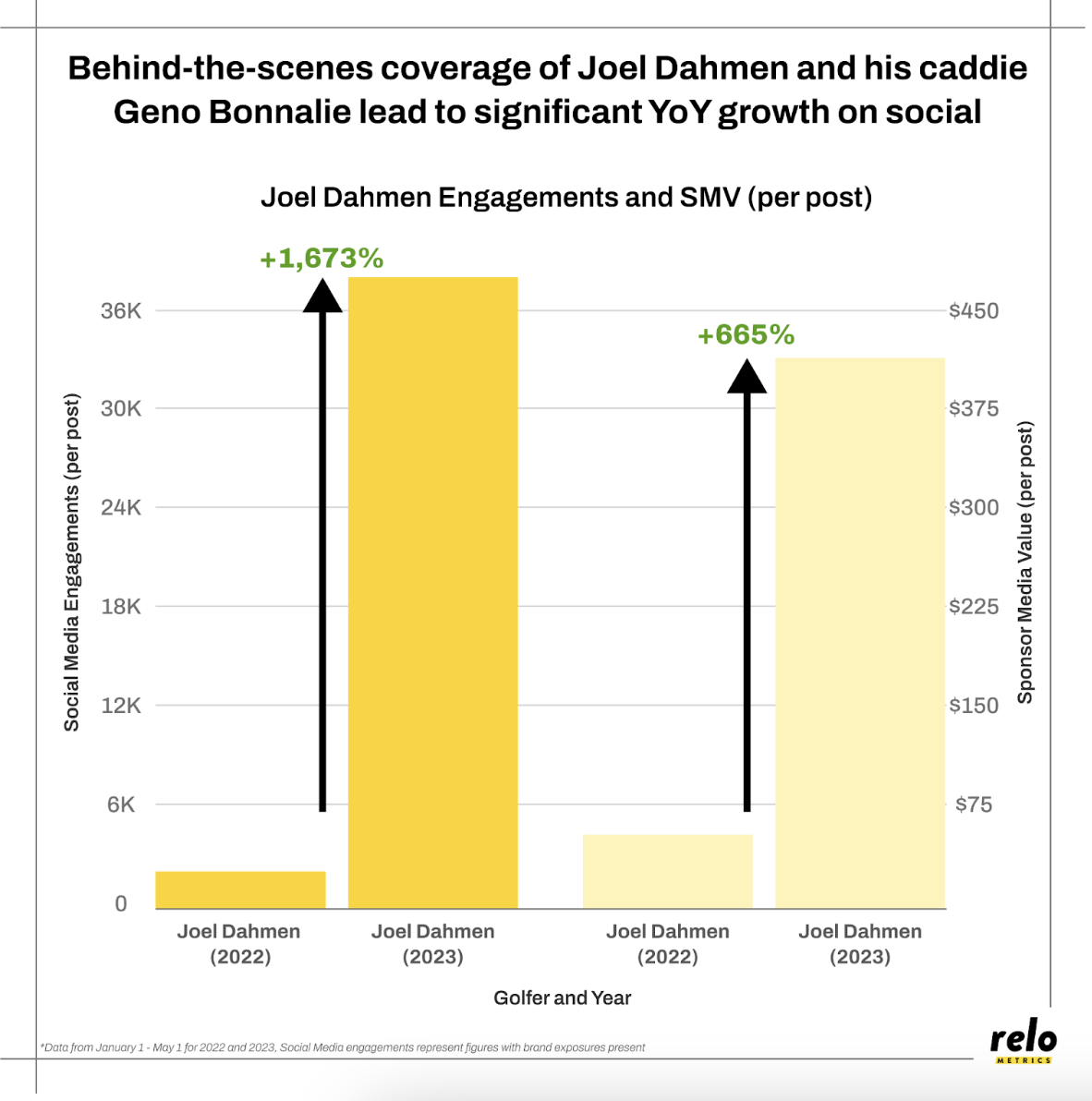 So, what's the macro trend at hand? It comes down to storytelling—and in the sports industry, this is proving to be no different when you look to build fan engagement.
Creating Emotional Connections
Sports storytelling has the ability to create emotional connections between viewers and athletes. By taking us behind the scenes and into the personal lives and struggles of athletes, we are able to connect with them on a deeper level than just watching them play. The Netflix series Drive to Survive, which gives an inside look at the Formula One world, has been credited with driving new fans to the sport. The series focuses on the personal stories of drivers and teams, giving viewers a reason to root for and be invested in them.
Bringing the Human Experience to Life
Sports storytelling allows us to see the human experience of athletes beyond just their performance on the field. The tennis documentary Breakpoint, which chronicles the journey of two tennis players on the doubles circuit shows us the sacrifices and challenges they face in pursuit of their dreams. The docuseries Full Swing, which explores the world of golf, showcases the personalities and journeys of players as they navigate the complexities of the sport.
Making Sports Accessible
Sports storytelling can make less popular sports more accessible to a wider audience. By creating engaging and informative content, casual fans who may not have previously been interested in a particular sport are given a reason to tune in. The Netflix series Drive to Survive has been credited with driving new fans to Formula One—a sport that has historically struggled to gain popularity in the United States.
"I think for Netflix, these shows are a great foothold for them in the sports space, you know, and I know there's a lot of discussion as to whether Netflix will ever get into live sports or not. That I honestly don't know. But I think they see this as a way to, in the short term, plant a flag in various sports and be in the sports conversation without diving into the live rights, is a great start," Paul Martin, co-founder of Box to Box Films.
Making Sports Building a Community
Sports storytelling has the power to bring people together and build a community around a sport or team. Fans who have been brought in through these documentaries and docuseries now have a reason to connect with other fans and engage with the sport beyond just watching it. Online forums, social media groups, and watch parties have formed around these shows, creating a sense of community and belonging for viewers.
Impacting Sports Marketing
Sports storytelling has become an essential part of sports marketing. By creating engaging and informative content, brands are able to connect with fans beyond just the game or event. By partnering with these documentaries and docuseries, brands are able to align themselves with the powerful emotional connections and sense of community that sports storytelling creates, creating a more impactful and effective marketing strategy.
The power of sports storytelling is changing the way we view and appreciate sports. By creating emotional connections, bringing the human experience to life, making sports accessible, building a community, and impacting sports marketing, sports storytelling is driving new fans and enthusiasts to less popular sports and connecting us all through the power of sports. As sports marketing executives, it is essential to harness the power of storytelling and create engaging content that resonates with fans and drives loyalty and engagement. We are excited to see how this trend continues to evolve and impact the world of sports.