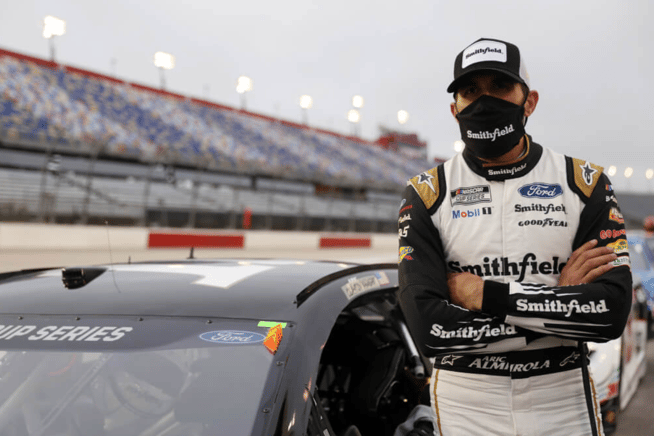 As one of the first sports to return since the Coronavirus shutdown, NASCAR drew nearly 6.3 million sports fans back to live television with The Real Heroes 400 on May 17th, 2020, according to Deadline. This made The Real Heroes 400 the most-watched race since the Daytona 500. With all eyes on Darlington, NASCAR was presented with an opportunity to set the standard on what the sports world may look like in a fanless environment. Engines roared, several drivers were reminded that Darlington is "too tough to tame," and Kevin Harvick ended atop the podium. Along the way, The Real Heroes 400 proved to sports fans around the world that sports could continue to operate in this difficult environment and proved to sponsors that their advertising dollars would not go to waste despite the prolonged shutdown.

To better understand the upside of fanless sporting events and to identify potential new revenue opportunities, Relo Metrics analyzed the Real Heroes 400, tracking traditional motorsports placements, while evaluating the potential for new, currently unbranded assets such as the grandstands and cloth face masks.
Empty Stands Present an Opportunity for Brands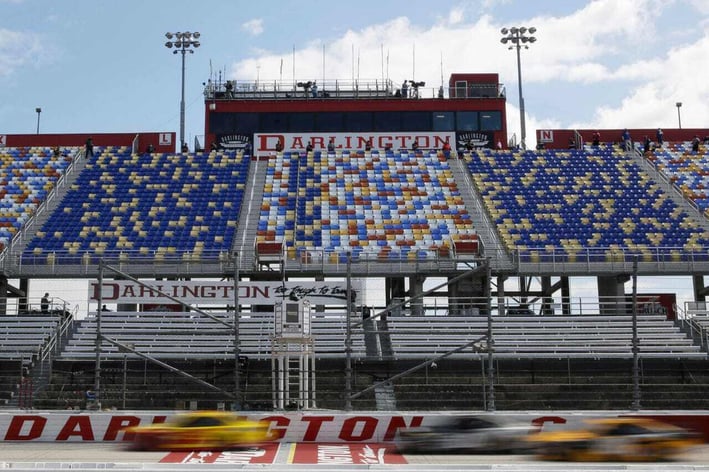 After the race, Kevin Harvick said something that all sports fans can relate to: "I didn't think it was going to be that much different, and then we won the race and it's dead silent out here. We miss the fans." While restrictions may keep fans out of stadiums for the foreseeable future, these camera-visible empty seats provide a new opportunity for sponsor placements. Relo Metrics' White Space technology determined that these unbranded grandstands accumulated 53 minutes of exposure duration equating to $3.4M of sponsor media value that could have been sold to brand partners. Although The Real Heroes 400 did not feature grandstand signage, leagues and teams can leverage these empty stands to drive additional value for sponsors by utilizing a branded tarp or digital overlay.

Empty grandstands represent an important asset across all sports, particularly in leagues where the seats are featured in main camera angles. New placements in grandstands offer an opportunity for teams and leagues to generate additional value for sponsors while also making stadiums feel less empty. Many leagues, such as the Bundesliga, have begun to test the waters on filling these new placements. While these aren't permanent fixtures, they represent significant value that is left on the table if seats are unfilled.
Masks Provide Utility Beyond Safety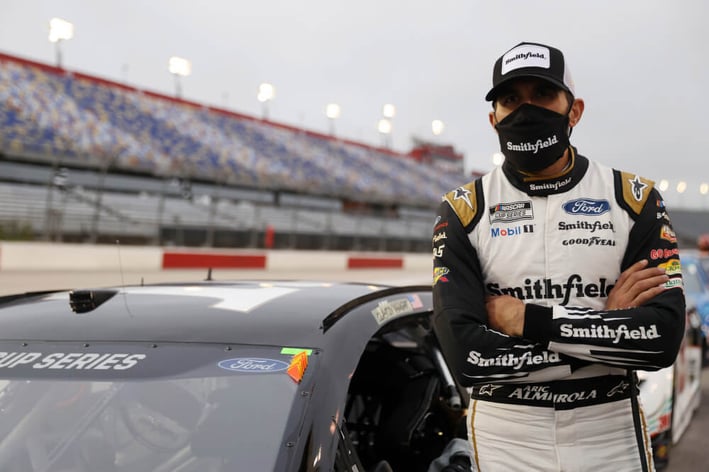 Due to Health Concerns, NASCAR required all drivers and team personnel to wear protective masks. While NASCAR allowed teams to utilize these masks for sponsor placements, only a select few did so.

Across all drivers in The Real Heroes 400, protective masks generated 11 million impressions across social media and generated nearly $220.8K in sponsor media value from broadcast and social media combined. This is valuable space that could have been sold to brand partners. While this value pales in comparison to the grandstands, masks have the potential to generate higher relative value in leagues where they would be unobstructed by other gear such as the helmets worn during NASCAR races. Additionally, protective masks represent an opportunity to penetrate social platforms due to the driver/player-centric nature of social posts.

While regulations will differ from league to league, these masks are valuable assets for leagues, teams, and players alike. Whether used to drive sponsor value or as an opportunity for players to express themselves, these masks should and likely will not go untouched. Inspiration from campaigns such as the NFL's My Cleats My Cause can pave the way for teams to make the most of this opportunity.
COVID-Relevant Campaigns Hold Power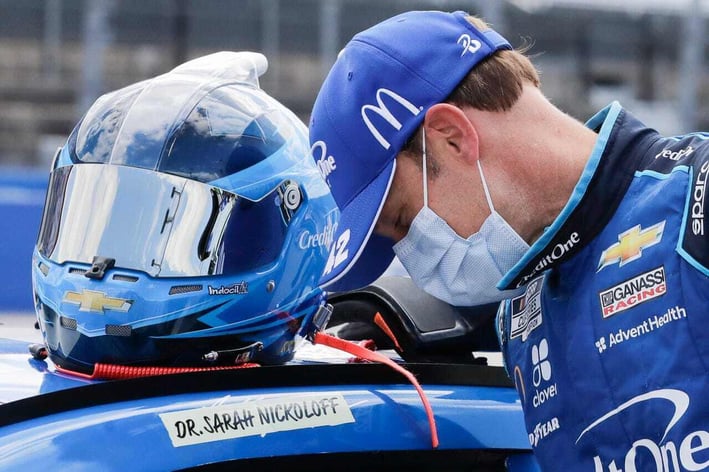 To raise awareness and support for those fighting on the front lines, NASCAR and its drivers teamed up on the "Real Heroes Project". This campaign is a joint initiative by 14 sports leagues, such as the NFL and NBA, to provide much-deserved recognition to the selfless healthcare workers keeping us all safe. For Darlington, the name of each driver above the driver-side door was replaced with the name of a healthcare worker helping battle the pandemic. Based on Relo's analysis, "The Real Heroes" campaign generated nearly $117.3K in sponsor media value through broadcast and social media activity. By partnering with healthcare providers, sports leagues and teams can leverage sponsor placements to spread awareness of these brand-relevant topics and shine a spotlight on those supporting the community. Relo Metrics has seen great success in similar Branded Content campaigns, which offer the opportunity to reach beyond any single sport's typical fanbase.

While no playbook exists for how to make the most of this new reality, teams and leagues around the world can learn from one another as sports slowly begin to return. The Real Heroes 400 has highlighted unique opportunities to drive value for sponsors despite the additional restrictions imposed by Coronavirus. Sponsor placements such as the Stands and Masks are new opportunities that any sport can implement in the new fanless sporting environment.
If you're interested in learning about Relo's Whitespace Analysis capabilities, let us know by requesting a demo.
Written by Chris Loughlin