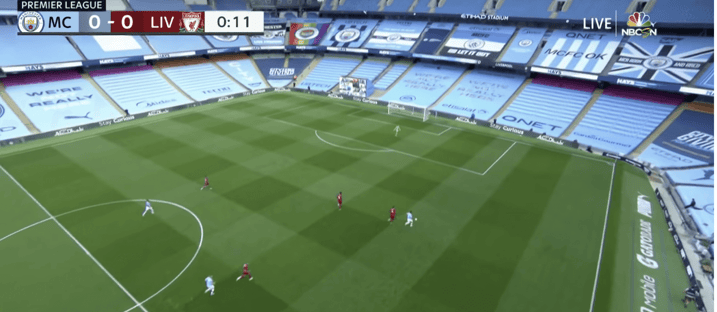 As teams and leagues continue to find their way back in the midst of a global pandemic, the landscape looks significantly different than four months ago. The impact of Covid-19 on sports leagues domestically and internationally has forced teams and stadiums to innovate in ways that have never been explored before. Sports that have returned, including Bundesliga, Serie A, Premier League, La Liga, NASCAR and Formula 1, have done so with no fans in the stands. The MLS, NBA and WNBA have travelled to Orlando to kick off their respective seasons in the "bubble" with the MLB, NHL, and PLL seasons about to resume in controlled, fan-free environments.

While all of these teams and leagues are facing their own unique challenges, every single one of them is exploring new ways to drive fan engagement in a digital and fanless environment and deliver additional value for partners in the midst of shortened or condensed seasons.

As leagues explore new assets for teams to provide to partners and prepare for their official returns, Relo Metrics analyzed new assets that Premier League teams have been implementing at their individual stadiums. Furthermore, we conducted a broadcast analysis of the Manchester City vs. Liverpool game on July 2nd, which was aired on Sky Sports and NBC.
The Relo Metrics team noticed several powerful integrations that other leagues should consider when returning to play. From massive physical seat tarps blanketing the entire lower and upper seating bowls to "Zoom Booth" digital fan integrations that brought fans at home closer to the game, England's top league has set the standard in reaching fans and executing new sponsorship assets that deliver major media value for partners.
Here are the top six takeaways for teams to maximize sponsorship value in a fanless environment:
Seat Coverings Drive Significant Sponsor Media Value

The most valuable assets that Premier League clubs have executed in-stadium without fans are the seat coverings. Manchester City strategically executed these seat coverings and highlighted marquee partners in the process. In analyzing the seat coverings during Manchester City's matchup vs. Liverpool on July 2nd, we uncovered that Etihad Stadium drove over $2.3M (£1.8M) in sponsor media value from the newly integrated seat coverings. Each tarp displayed one sponsor and was captured consistently from the main broadcast camera visible angle throughout the 90 minutes of play.
Positioning is Everything: Placing Premium Rates on Sideline Seat Coverings

When looking deeper into the analysis, the sideline seat coverings drove a much higher exposure and duration count compared to goal line and corner tarps. With the majority of a football match played in the middle third, it was no surprise that brands on the sidelines achieved higher exposure counts. For example, Etihad generated the highest media value, driving close to $270K (£215K) from being placed in the center of the sideline tarps. Teams should be placing a premium for sponsors on the sideline seat coverings.

About 65% of the total sponsor media value generated by the seat coverings was from the sideline tarps (corner flag to corner flag). The goal line seat tarps came in second, generating about 20% of the total value generated by the seat coverings, due to the strong logo creative and execution in the goal line seat tarp area.

Lastly, the corner seat tarps drove about 15% of the total value of the seat coverings. While the corner seat tarps appeared more often on screen compared to the goal line, the corner signage suffered due to its small size and lack of visibility when shown on broadcast.
Recognizing and Avoiding Sponsor Clutter

In looking at different seat covering configurations across the league, Relo Metrics noticed a common theme: sponsor clutter. Placing multiple sponsors on an individual seat tarp can significantly lower overall sponsor media value. Manchester City was able to avoid this by strictly placing one sponsor per tarp, allowing for an increase in exposure size and clarity for each partner's creative.
On the other hand, other teams in the Premier League utilized multiple sponsor logos per tarp. This resulted in unrecognizable sponsor exposures on broadcast and less time on screen, which decreased their value.

The images below highlight different Premier League venues that implemented multiple sponsor logos on each individual seat tarp, such as Manchester United and Wolverhampton.



Additionally, other professional leagues such as Serie A, utilized virtual signage instead of static or fixed. The virtual integrations allow a single partner to take over all pitch level LEDs and "capture the moment." Virtual signage also gives teams the flexibility to incorporate multiple key partners throughout the course of the game. The image below showcases the sponsor Skrill owning all three LEDs as AC Milan battles Juventus.

Virtual overlays can serve as a great alternative for teams who are looking to feature multiple partners during the course of a game.
Game Flow Influences Sponsorship Value

Game flow has a major impact on which seat coverings will be shown throughout the broadcast. These include: possession on ball, throw-ins, corners, freekicks, fouls, penalty kicks, shots on goal, and goals. Game highlights and recaps allow for an increase in exposures and on-screen duration. Slow motion replays clearly display partners on the seat coverings, generating high sponsor media value.

In a fanless environment, the Premier League demonstrates Covid-safe practice by implementing "water breaks." This is a key driver for the first and second half highlights to be shown on screen thus increasing the amount of exposures for partners on the seat coverings.
Optimizing Broadcast Production Can Deliver Additional Value

Another aspect that will aid in maximizing value for seat covering sponsors is the change in broadcast production angles. In a fanless environment, many teams have been collaborating with broadcast networks to deliver more time on screen for key partners. For example, during the opening and closing 15-30 seconds of the Manchester City vs. Liverpool game, an aerial shot was shown allowing for a wider view of the full stadium. Partners were clearly visible around the stadium, adding additional value to seat covering partners from the production change.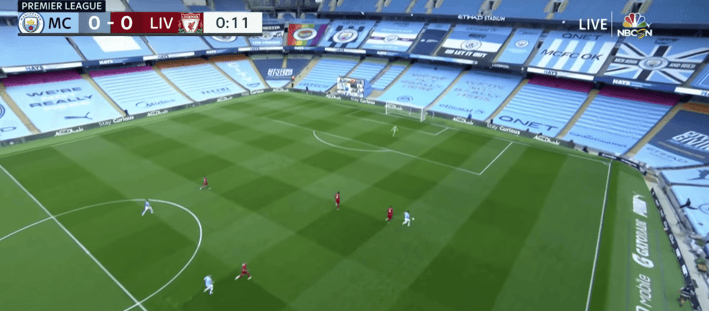 Bringing Fans Closer to the Action from Home

In order to "normalize" this fanless environment, Premier League teams implemented the opportunity for fans to be featured on Zoom using two jumbotrons located behind each goal. For Manchester City, these booths were branded with one partner, driving close to $60K (£48K) from just one broadcast.
Furthermore, a partnership with Zoom Communications also allowed diehards to showcase their fandom on the pitch LEDs throughout the course of the match. Clubs like Manchester United have used the hashtag #OnThePitch to give fans the ability to appear on the pitch LEDs supporting and cheering for the Reds.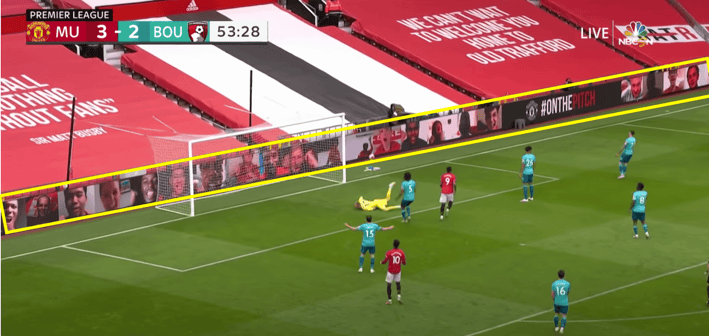 Through a partnership with NBC and Sky Sports, viewers have the ability to listen to the match with produced audience noise, helping to normalize the at home viewing experience. These channels give fans the opportunity to feel like they're close to the teams they love, no matter where they are. Partners can capture additional value through a fan "moment" by implementing broadcast graphics. For example, during the halftime show, fans are shown on screen celebrating from their homes. This presents a unique opportunity for partners to own that moment and connect with loyal fan bases.
Summary
Fanless environments have become the new reality for leagues both domestically and internationally. While there are no fans in the stands, teams and leagues have the opportunity to fill those spaces with impactful sponsorship inventory like seat coverings to drive additional value for their partners. Plus, teams are still able to build meaningful connections with fans who are enjoying the games from home by incorporating fans on LEDs and Jumbotrons in the arena. Learn how other organizations like Bundesliga and NASCAR are driving value for partners in today's sports environment.
To learn more about Relo's sponsorship analytics and how you can optimize value for partners in this rapidly changing environment, feel free to http://relometrics.com/contact-us/ for additional information.
Written by Antoine Laurient and Jason Plush