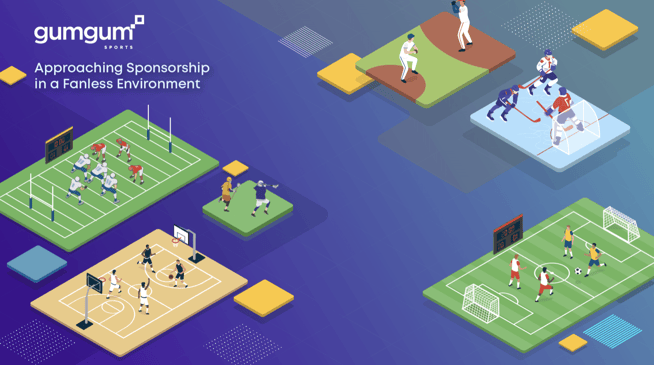 The sports industry has many questions around what the future of sponsorships looks like, as live games return, and fans, unable to attend in person, are all watching from home. In some cases teams are playing full seasons, while others look to compressed formats. Many teams and leagues are playing in neutral sites in bubbled environments, while others are playing in their empty home arenas. While these scenarios differ in the impact they have in optimizing sponsorship assets, they present new opportunities and questions that need to be tackled to ensure that brand partners are receiving as much value as possible. During the sports hiatus and early resumption of play, many of our clients reached out looking for best practices and opportunities to hear how other teams and leagues were handling these new challenges.

At Relo Metrics, we love to host our clients in exciting and engaging events. While the quarantine has restricted our in person gatherings, we thought it would be beneficial to host a cross section of industry leaders from our client base in a virtual roundtable to ask questions and share best practices for how they are each approaching partnerships for the balance of 2020. This collaborative forum brought together professionals from all corners of the industry - broadcasters, leagues, teams, and agencies. With this diverse group, we discussed ideas on how to approach new inventory in stadiums and arenas, how fan engagement will change, and best practices for leveraging social and digital media platforms.
Here are Some of the Key Takeaways From the State of Sponsorships Event:
1. Fan engagement is top of mind for properties and broadcasters, with an increased focus on finding creative new ways to engage with the audience at home. Some ideas that were shared included enhancing the second screen experience on social media or on team/league apps. An agency representative spoke about Facebook's new Venue app -- a mobile platform that allows users to communicate with selected host commentators during live sporting events as a second-screen 'experience' -- as a new avenue for rights holders to drive fan engagement. NASCAR was the first to adopt this new fan engagement app, allowing guest commentators to interact with fans during races using features such as polls or Q&As.
2. There are many unknowns around the production angle changes in the fanless environment that could impact visibility of certain signage areas, and the approach will likely vary by sport. When planning new inventory, collaboration with broadcasters on changes to game flow or camera angles will be important to consider. A representative from a major broadcaster shared that it will be important for teams and leagues to get creative and think about what they can do to make games stimulating and fun for the at-home audience, such as incorporating mascots in the empty stands or filling empty space with signage that supports a cause.
3. New sponsor inventory will primarily be used to provide value for current partners to make up for lost value from shortened seasons. Collectively, rights holders will look to provide as much as possible by leaning into digital content. One European football club noted that they have considered providing makegoods when sports return through the use of hospitality, in-market experiences as well as offering as much as possible on the digital side, through the repurposing of content and development of new social media campaigns that partners can be a part of. A representative from a top US professional hockey team noted that their team quickly began brainstorming new content ideas that could incorporate their partners. Some ideas included virtual fundraisers, virtual parties and in-game activations they can integrate sponsors in as sports come back.

4. Face masks are one of more notable new assets across the board. While there may be sensitivity around the asset, incorporating relevant or endemic sponsors that are aligned with messaging could capitalize on a highly valued placement, particularly on athletes. Based on Relo Metrics' Bundesliga and NASCAR white space analyses, masks are a valuable new asset that can be leveraged to provide additional value to partners, particularly through visibility on social media.

While sports have now begun their return to live play, the industry still has many questions around how to create engaging fan experiences and how to ensure partners receive maximum value and exposure. As demonstrated through Relo Metrics' white space analysis of Bundesliga football, NASCAR and English Premier League, new asset opportunities such as face masks and fanless seating represent value that can be opportunistically utilized for current partners.

Additionally, now more than ever, fans are relying on digital channels for their sports consumption. Teams and leagues are satisfying this demand through new digital channels, campaigns and technology integrations that can bring the fan closer to the game while also creating new sponsor-able assets that create incremental value for brand partners. If you are looking to create and value new sponsorship inventory, Relo Metrics can help.
You can reach us at https://insights.relometrics.com/demo.
Written by Jess Frieder