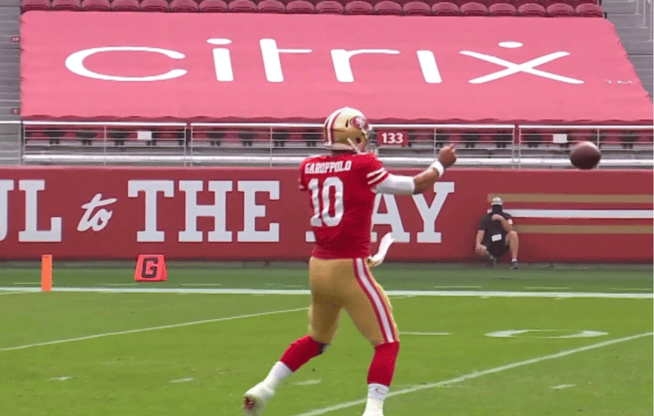 With the start of the 100th NFL season, teams will have limited to no fans in attendance. In order to deliver sponsorship value for many local and national partners, NFL teams have implemented two new in-stadium assets: Sideline Seat Tarp and Endzone Seat Tarp. The primary goal of these assets is to give teams the opportunity to make-good the loss of in-person impressions.
The majority of sponsors and teams had high expectations on the sponsorship value that would be generated with the new assets. However, there has been widespread disappointment by sponsors as they watched the season opener and found their brand logo featured a handful of times throughout the game.
Relo Metrics analyzed 7 NFL broadcasts from week 1 of the 2020 season to attain a data-driven understanding of Sideline and Endzone seat tarp performance.
Topline Results from NFL Seat Tarps
Across these 7 NFL teams, values from both Sideline and Endzone seat tarps ranged from $300K - $2M in total sponsorship value per game.
**Figure 1 showcases the values and exposures from all sponsors tracked across these 7 teams for week 1**
Results By Type of Tarp Asset
The Sideline seat tarp generated an average of 78 exposures with an on-screen duration of 342 seconds, equating to $538.2K in sponsorship value on a per game basis.
The Sideline seat tarp drove a higher sponsorship value compared to the Endzone tarps due to an increased number of sponsors featured on the Sideline, averaging roughly 7 sponsors per team, compared to 4 for the Endzone.
Approximately $72.6K in sponsorship value was earned on a per sponsor level across the 7 teams tracked.
**Figure 2 highlights the value earned on a per team basis across the Sideline seat tarp**
Furthermore, the Endzone seat tarp averaged about 42 exposures with 209 seconds of on-screen duration, garnering $280.2K in sponsorship value per game. This asset averaged approximately 3-4 sponsors along its signage with majority including the team branding logo.
Field goal kicks, punt returns, and touchdowns allowed for an increase in exposures for the Endzone seat tarps. It also provided clearer and more detectable exposures driving a higher quality score when compared to the Sideline seat tarps.
In addition, the Endzone seat tarp drove a higher value per sponsor compared to the Sideline seat tarp. On average across the 7 teams tracked, the Endzone seat tarp drove $85.4K per sponsor.
**Figure 3 shows the value of each team with their associated exposure counts for the Endzone seat tarp**
While the performance of the seat tarps may have disappointed sponsors, we compared exposure and value trends to determine whether the seat tarps outperform or underperform as compared to existing assets.
Utilizing a smaller sample of 3 teams, we determined that both the Sideline and Endzone seat tarps outperformed existing fascia/LED assets, billboard/scoreboard assets, and tunnel cover assets from an exposure perspective. On the surface, this may indicate that while the seat tarps did not meet initial expectations, they hold significant value as a new asset.
**Figure 4 shows the average exposure count and sponsorship value for each asset class for the 3 teams analyzed**
Recommendations for Improving Tarp Visibility
As a result of the general sentiment surrounding tarp performance, teams are facing pressure to implement changes that will increase tarp performance or to provide additional make-good opportunities to increase sponsor value. With this in mind, we have outlined our learnings for performance differentiators across the league.
Creative Size and Color
From a creative perspective, size and color had the largest impact. Single, large logos generated the clearest exposures, but were also likely to appear clearly when featured at a distance or in the background of broadcast scenes, such as desk shots or interviews.
While most teams stuck to their primary colors, we found that teams that utilized white font on a black background saw significantly clearer exposures than teams with lighter color tarps, particularly when lighting became a factor.
Production Optimizations
Many teams have faced pressure from sponsors to push for broadcast changes to increase sponsor value. While sponsor value is an important piece of the puzzle, the NFL and broadcast partners have a duty to prioritize the broadcast experience, and shots of empty stadiums have been exchanged for shots that make the game feel more "normal".
That being said, the league should push their broadcast partners to identify opportunities to feature these tarps without impacting the broadcast. One example would be to feature these tarps clearly in the background of sideline reporter shots, as opposed to prioritizing the stands or the stadium.
Social Media
While exposure on broadcast television is the largest driver of NFL sponsor value, social media platforms provide ample opportunity to drive sponsor value beyond this channel. Careful curation of social posts can lead to additional value for tarps that see low broadcast exposure. In particular, camera side tarps should be prioritized on social media due to their lower likelihood to see broadcast value.
While the narrative surrounding seat tarps was largely negative, we have found that seat tarps, when executed well, can generate significant value as a make-good asset. Given it is early in the season, teams and brand partners have the ability to optimize these new placements and further leverage the potential of this new asset.
Want to learn more about the opportunities and challenges teams are facing with the return of sports in fan-less stadiums? Check out our Bundesliga, NASCAR and NBA sponsorship analysis results.
Written by Antoine Laurient & Chris Loughlin