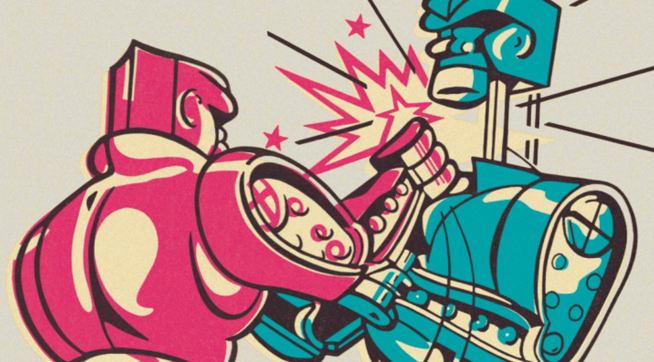 Today, every brand is competing for attention. That means the success of sponsorships can make or break a marketing program. With big budgets on the line and ROI being scrutinized now more than ever, brands need access to timely information that tells them exactly what's working across every game and every play.
A decade ago, brands had to wait for performance data from their sponsorship partners, which was often too high level, inconsistent and delivered months after a season or event had ended.
In some cases, the goalposts would've already shifted by the time marketers learned if their efforts were paying off. According to the Association of National Advertisers, 96% of marketers feel it's important to have metrics that show their sponsorship performance in relation to other marketing expenditures.
Fortunately, emerging technology has helped make sponsorship data more readily available than ever. Speed, transparency, and accessibility are all on the rise. Instead of sitting on the sidelines, today's brand marketers have direct access to data to make smart decisions in real-time that boost ROI.
One of the most effective ways to do this is through media value equivalency, which lets brands capture the benefit of all sponsorship exposure from a given campaign. This offers brands a huge edge over the competition, letting them drive value across the full sponsorship cycle. They can see the channels and signage that generates the most revenue. With this sponsorship data in hand, marketers can then layer in other intel about fan behavior, purchases, hospitality programs and more to get a complete picture of ROI.
At Relo Metrics, we use the term sponsor media value (or SMV) to evaluate the effectiveness of sports sponsorships, by comparing exposure of sponsorship signage with what it would have cost for a brand to receive the same amount and quality of exposures in a broadcast commercial or social media campaign. This metric levels the playing field, giving marketers a clear way to compare the effectiveness of different media buys.
How Sponsor Media Value In Calculated:
Monitor media platforms - Brand exposure data from TV, streaming and social media platforms is evaluated using proprietary computer vision and technology-enabled analysis. Similar to tracking impressions, this step provides insight into the impact of a brand's sponsorship.
Calculate Media Value - Platform-specific advertising rates are applied to determine a unique cost equivalent. CPM/CPE data is used for social media. A 30-second spot cost is used for broadcast
Determine exposure quality - Ingested data is analyzed using a formula that assigns a discounted exposure score based on six factors: clarity, visibility, prominence, size, share of voice and placement.

Let's see it in action...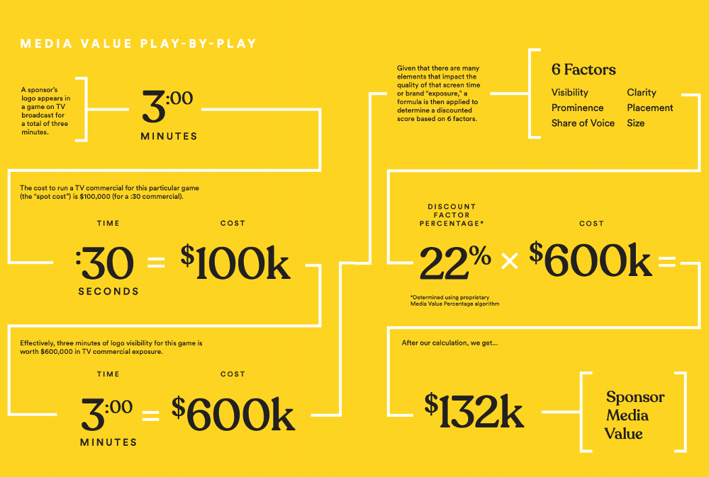 Measuring media value is key for marketers to unlock their sponsorship's full potential and effectively evaluate the performance of their sponsorships compared to other marketing channels.

Since sponsor media value can be difficult to calculate alone and it requires sophisticated algorithms to do it accurately, most marketers choose to work with a sponsorship analytics platform that can track sponsorships across many channels and then provide analytics via an online platform.
To get a closer look at how media value empowers brands with greater insight, efficiency and transparency throughout the sponsorship cycle check out the Brand Guide to Optimizing Sponsorship Performance.
Written by Bayli Stefl