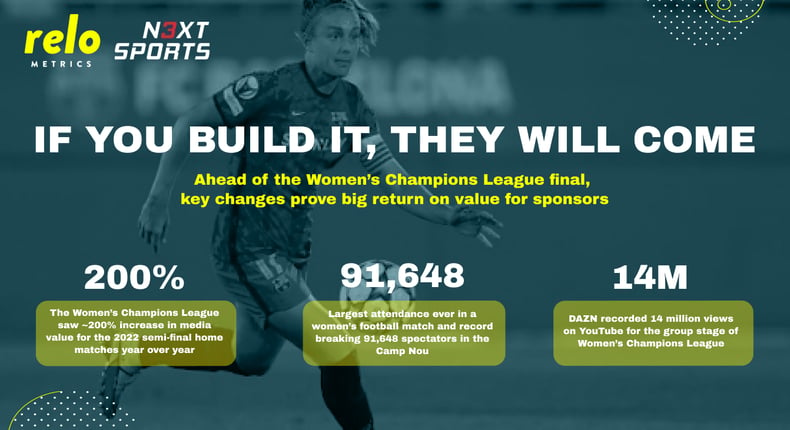 Just three years ago, the 2018-2019 Women's Champions League semi-final of Olympic Lyonnaise against Chelsea garnered, at the time, a record breaking fan attendance of 22,991, the largest that the WCL had seen to date. In the 2019-2020 and 2020-2021 seasons, sporting events took major attendance hits due to the COVID-19 pandemic, and the WCL was not spared. However, in its epic return, the Women's Champions League has blown through previous attendance records again this season. There was a record breaking 91,648 spectators in the Camp Nou stadium, with the largest attendance ever in a women's football match anywhere, during the battle of FC Barcelona Femení v. Wolfsburg in the semi-finals on April 22.
But it isn't just spectators in stadiums who are showing up. DAZN, which owns the streaming media rights for the WCL, recorded 14 million views on YouTube for the group stage of WCL. Even more exciting, DAZN said that 85% of viewers had never before subscribed to their YouTube channel until they tuned in to these dazzling matchups. To top it all off, it was announced on Tuesday, May 17th that DAZN has sub-licensed the Women's Champions League final on local TV networks in 9 countries and on DAZN's live streaming, furthering the reach and visibility of the match.
Sponsorship intelligence platform provider, Relo Metrics, and strategic consulting agency N3XT Sports, analysed WCL semi-finals from 2021 and 2022, and found that there is tremendous value for sponsors. Our assessment showed that women's football, granted a chance to be seen on major streaming services and in high value stadiums such as Camp Nou, will provide a great return on sponsors' investment. And they are doing so without being an add-on to the men's matches. Instead, women's football is now packaged as a full end-to-end media and marketing investment platform of its own that drives commercial outcomes on broadcast and social media for teams and in this case, the visibility of the Women's Champions League.
Bigger Is Better
In 2021, Paris Saint Germain played their semi-final match against FC Barcelona Femení at their home stadium, Stade Georges Lefevre, which holds approximately 2,100 fans. The pitch is outlined with static stadium boarding of their top club sponsors: Nike, Accor, Deliveroo, and Ooredoo. When Relo Metrics' analytics captured the match on broadcast, the overall partner visibility and media value from the static boards and kit sponsors was valued at €180K. Similarly, FC Barcelona Femení's home match at their Estadi Johan Cruyff, with close to 6,000 seats, featured static boards, as well as LED Boards with four of the club's exclusive brand partners, including Stanley Black & Decker. Relo Metrics' analytics measured a cumulative media value for their partners from the match at €85K. In 2021, only one stadium activated LED boards: FC Barcelona Femení at Estadi Johan Cruyff. But it's clear that more stadiums where women's games are played can create value with LED boards.
In comparison, this year's semi-finals involving PSG and FC Barcelona Femení showed a major contrast in brand visibility and media value. PSG's home match at Parc des Princes almost exclusively utilised LED boarding, doubling the number of brands and partners that could activate that asset - including the League and the club's title sponsors. This increased the overall media value of those sponsors to €235K, according to Relo Metrics' sponsorship intelligence analytics. During FC Barcelona Femení's semi-final home match against Wolfsburg, there was a four-fold increase in brands with 16 total WCL sponsors, plus the club's title sponsors, resulting in overall media value of €490K in that one match alone.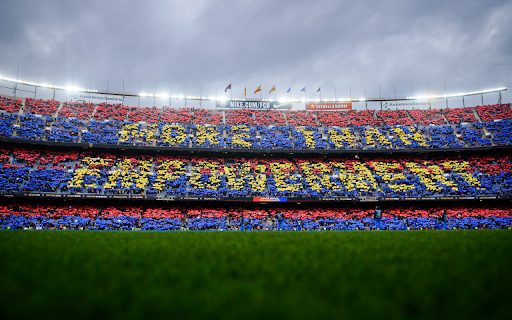 Standing On Its Own
The commercial rights are crucial here. Though the teams are limited to activating only their title sponsor during the 2022 tournament, the WCL's "unbundling" of sponsor rights from the men's has allowed WCL teams to champion and to create their own market and brand value. This not only helps the visibility of the WCL, but boosts the visibility of the teams, of women's football and of women's sport overall. Additionally, the impact of the in-stadia advertising assets available increased overall viewability of the brands year-on-year, mainly with the activation of LED Boards. Larger stadiums mean more LED Boards, more sponsorship opportunities and more commercial revenue. By packaging the WCL sponsor rights together, the League can measure and implement their own strategy to suit the needs of their audience, along with increasing the number or categories of brands to invest, ultimately increasing the commercial value of the League.
The Women's Champions League saw almost a 200% increase in media value for the PSG and FC Barcelona Femení semi-final home matches year over year. "The fact that FC Barcelona Femení's home semi-final versus Wolfsburg drew four times more brands compared to the 2020/21 iteration is thanks to the addition of the League rights, amounting to €490K in sponsorship value for a single game, proves the opportunity women's football offers to clubs, brands, and rights holders", says Arianna Criscione, Director of Women's Football for N3XT Sports.
"However, for women's football to continue the forward progress we've seen this season, rights holders need to trust in its potential and to not be disturbed if the games aren't a sell-out every time," says Arianna. "By permitting the clubs access to the main stadiums in the way that FC Barcelona Femení and Olympique Lyonnais do for their women's teams is a small – but hugely powerful and lucrative – investment that more clubs can emulate."
As we focus now on the Women's Champions League finals on May 21, Relo Metrics and N3XT Sports agree that the hype is more than hype - the data clearly show that women's sports provide real value for sponsors and opportunity for growth. With more eyes on the games, brands have the opportunity to amplify their reach, by capitalising on both novel and existing loyal audiences that are excited about women's football.