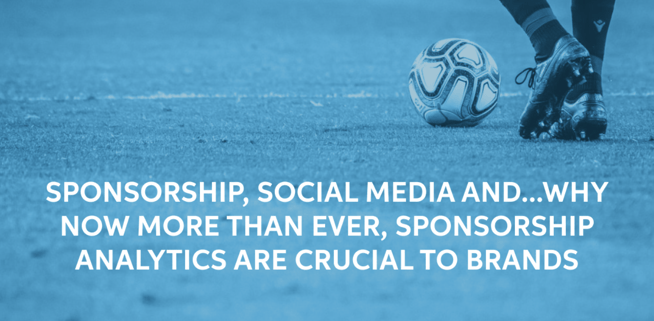 *GumGum Sports is now Relo Metrics.
In the current global climate, it can be daunting to look forward and assess what's next for the world economy and humanity as a whole. We're constantly adapting to this new normal - trying to figure out how to best push the world forward and return to the comforts of daily life. We want to see our weekend matches. We want to gather and cheer for our hometown teams. However, it may be awhile before that can resume.
COVID-19's impact on the world of sports may force us to change our patterns of behaviors for longer than we imagined or can even predict. But we've already seen some immediate changes to accommodate the thirst for sports around the world. Broadcasters are replaying classic games from history or are commenting on live esports matches; live streaming has increased drastically on Twitch since COVID-19 started; humanity is relying on social media to stay connected, with Twitter reporting record user growth, adding 14 million daily active users in Q2. With some sports leagues planning on soft returns starting in May and June, we can hope that there will be more to play with, pun intended.

Though our sport-driven hearts may be aching, the fans aren't the only ones feeling the loss. Brands and rights holders alike are adapting to the dramatic decrease in revenue from major drivers for live events like ticket/venue sales, TV advertising and sponsorships. To understand more about the state of play, we reached out to an expert in the field, John Ali, former Head of Sponsorships at Marathonbet, to get his take on COVID-19, the need for sponsorship analytics now more than ever and why our thirst for sports is a 24/7/365 desire.



GumGum Sports - John, thanks for joining us today. Can you start off by giving us a bit about your background and your former role at Marathonbet?

John Ali - I've always worked in sponsorship and partnership marketing, primarily focused in sport and entertainment. I'd like to think I have a broad range of experience/expertise garnered from agency roles, consultancy stints, rights holders shifts and brand gigs. My latest role was at Marathonbet; a global company that values sponsorship as a key route to market across its key territories. [I handled] securing high-profile partnerships with the likes of Man City, Sevilla and Real Madrid; activating the assets across the key markets, and then evaluating the effectiveness of the partnerships, assets and campaigns.



GGS - What have you valued in your career path in terms of experience to get you where you are now?

JA - Understanding the sponsorship game from all angles is a key skill for all sponsorship professionals looking to progress; knowing people's pressures, demands and constraints helps with collaborative working and optimal outcomes when dealing with external stakeholders. I think it's really important that you not only understand your [respective role in the industry], but to [also] understand everyone [elses] pressures from around the table.



GGS - Makes sense! We'd be remiss if we didn't ask given your background and expertise, what your view is on how COVID-19 has impacted sponsorships for rights holders?

JA - There are many different paths that could conceivably happen - and has happened in some leagues; seasons being declared void, seasons being finished now, or significantly altered fixture frequency and location (behind closed doors, neutral venues, matches every 2/3 days). All [of these potential outcomes] have a degree of impact on money, integrity and the appeal of the rights holders in a longer-term view as commercial entities. Let's take the Premier League as an example; there are probably 3/4 Premier League front of shirt deals that get closed at this point or later for next season, and the uncertainty of which clubs will be PL clubs in 2020/21 will have a huge impact on sponsorship investment. Without knowing what you are selling, you cannot hope to get deals over the line, without some hideous contractual matrix that outlines every-single possibility/remedy – and all predicated on getting a brand to invest at this uncertain time. Prospecting new partners [and servicing incumbents] will be affected with whatever path is taken.

A path forward for me would be to offer partners an extension year on their current agreements for half their normal fee, with an altered payment plan. This [won't] work for everyone but allows any potential losses to be amortised over a number of years and in the short term [guarantees] some income in seasons ahead as the global economy recovers from this shock. So, I think there's a bit of back and forth in terms of what the rights holders can do in terms of asset delivery in the here and now [and] from a contractual point of view. They've got to be flexible and understand that not everyone will be able to make payments to invest in the right ways in the here and now.



GGS - And what about the impact of COVID-19 on Brands?

JA - For Brands; their priority at this time is cash flow – cash is king. Marketing spend will be slashed across the boards and FD's across the world will be studying Force Majeure clauses in all agreements; putting sponsorship agreements at greater risk than other advertising contracts given sports' enforced hiatus. There will be many brands that cannot continue to live up to their end of the agreements, falling behind on payments causing terminations and possible legal reprisals. However, if payment schedules can be altered [and] rights schedules tinkered with, there could be a successful continuation of the partnerships driving value. There will also be huge opportunities for businesses who come through COVID-19 relatively unscathed and in a position to invest. The number of category sponsorships that will default, coupled with a glut of supply (caused by fall in business discretionary spending), means there will be bargains abound if you are willing to take a risk that sport will get back to normal at some point.



GGS: How are brands and rights holders addressing the concept of the "long tail" of social media?

JA: There is huge benefit for long-tail marketing for brands of all sizes, life-stages and categories for long tail marketing on social channels. It cannot be viewed as separate from other marketing channels focusing on this; but like all good strategies, needs to be consolidated. The long tail of social media allows you to be true to your narrative and demographic audience; and analytically you can receive instantaneous and evolving feedback that helps craft an ever more optimised message. It allows you to be yourself, work your narrative detail and your treaty [with your] audience demographic. It means you don't have to chase immediacy in terms of big flashy TV ads.



GGS: What mistakes have you seen with brands using social media and digital marketing?

JA: Social isn't the silver bullet for all brands [or rightsholders]. There is often a lack of definition on the purpose of social media channels. Does it drive sales/consideration? Does it heighten engagement? Does it make you famous? Does it give you customer service solutions? Even if none of this is achieved by social teams, there is still the hope that something will go viral at some point and [it can be] monetised in some way. Genuine collaboration in sponsorships are a great way of cutting through to a target audience. Generating narratives that are natural to both the rights holder and the brand is key; but only when this can be capitalised on by the brand in consolidated strategic campaign planning.

Too often have we all seen a 3-player player appearance with footballers playing tiddlywinks on behalf of Sponsorship Ltd. There's a logo on screen and a branded backdrop. It's quite funny so I watch it for 15 seconds before scrolling on. There's no additional spend put behind the content as the football club's channels have millions of followers. That's it. It's done. What's next? The rules of marketing still apply to sponsorship planning; genuine campaign planning is needed, to achieve the goal and purpose you set out for a brand's social media channels.



GGS: What about social media for brands and rights holders in general, and during the COVID-19 pandemic?

JA: The sponsorship industry has used social media and digital channels since their inception. Social media narrows the divide between brands and consumers in a way that traditional advertising never could have dreamt of. It has been so effective that huge multi-nationals have moved almost their entire advertising spend to digital channels, with Social at the heart of their marketing mix. Brands such as Nike almost exclusively spend their marketing budget on a digital strategy.

Right now [amidst the pandemic], there's a lot of work going on behind the scenes about how they can deliver something in the here and now. And it's really tough to get that something right. A lot of it is fun, creative and gimmicky, but you'd only watch it once. And that's the challenge, to be able to generate hiatus content but without becoming gimmicky and kind of repetitive and just annoying people. And I think that's a really fine line.



GGS - Any specific campaigns or activations that you've seen do well during this time?

JA - [In regards to a successful campaign/activation], [Darts here in the UK is big]. But in the current lockdown, what they've done is set up dart sports in each of the players' homes and they play against each other over video link. That's been a nice way to get fans engaged. But actually with a sport like darts, it's all about the aura. It's all about the sports presentation. Can they crack this aspect and continue to appeal to their audience in this new format, that's the challenge!



GGS - Can you speak about the impact of data and measurement on sponsorships, for both brands and rights holders?

JA - Sponsorship agreements are made up of tangible and intangible assets and values. As a brand, you can have all the data in the world from previous partnerships in your category, previous results from the rights holder for the suite of assets you've brought; but until you have the insight to the effectiveness of the assets vs objective you're flying blind. Often some of the smallest talking points in contract negotiation can unlock some of the biggest values once the deals are activated; so a solid understanding of all social media and digital assets, plus proper strategic campaign planning need to go hand-in-hand with real-time results. Social media analysis is growing massively in rights holder's offering to partners; but frustratingly (for brands), it is still not as quick as they would want it. Flash data on owned channels is pretty easy to collate for most account managers, which coupled with a brand's tracking gives a part picture but not the full story.

[Thus,] you must be more scientific if you're going to ask for more money. I think there's an onus on rights holders to invest in sponsorship analytics partners because it's in their own good. If the current guys aren't going to renew, you bet your bottom dollar if you've done your work properly, the next guys will be sort of kicking each other to get in the door.



GGS: As you know, we like to see ourselves as leaders in the sponsorship measurement space. One thing we've worked on with our clientele has been measuring "white space" or empty spaces to assess their value for potential sponsors. We shared some data with you regarding this and we'd love to get your thoughts on it.

JA: Using innovative measurements that go beyond the usual level of reporting given by rights holders to brands can be the difference when closing a deal. Understanding the potential values that certain deals can unlock can provide new revenue streams for rights holders, and value for money packages for brands. The insight that a training kit sponsor would receive a large proportion of what the match kit would receive helps understand values, and builds the case for investment. Without insight such as this, and the investment in social media/digital research, it would be extremely difficult to justify investing into relatively new propositions, such as a training kit sponsor.

[It leads to the idea that] you get so much more as a main partner than as a category partner because of your natural place on [the] player kit versus the rest as a category partner. And I think what that does is increases, emphasizes and enhances your frequency. Frequency is the key to driving mass awareness on a "spray and pray" basis.



GGS: How does data speed and timeliness factor into the need for sponsorship measurement?

JA: At most brands, there is a huge reliance on the rights holders' insight capability, which is in turn reliant on their supplier's ability to provide data to cover all partners. Traditional broadcast media valuations are presented to partners twice per season and given when they finally land on a CMO's desk it's often (for football) March and July. This poses huge challenges for a brand, as broadcast media is still one of the main objectives for all major sponsors; how can you optimise your creative/narrative with feedback that has a huge lag period and comes at inopportune moments [leaving brands] little time left in seasons or before seasons start [to react]? There is a thirst for real-time analysis, and rights holders that crack this, offering collaborative solutions/optimisations will perform well in terms of retaining and onboarding partners. Renewals are going to be driven by scientific evidence with KPIs to prove effectiveness.



GGS - Speaking of thirst, we're in a sports drought! Nowadays, the world expects to see something sports related on 365 days of the year. Why is that? Can you speak to this phenomenon in regards to the UK football culture, specifically?

JA - COVID-19 aside; football has become physically a 365 day a year sport; pre-seasons, international tours, league matches, international windows, continental club tournaments, staggered winter breaks, promotion/relegation scraps, league & cup champions decided, continental champions crowned, pre-international tournament friendlies and finally World Cup/Euros etc. Live football does dominate and will continue to dominate the sporting calendar with 7-day a week coverage. It is not possible to watch that much football both from a time point of view, but also from a cost point of view (match tickets, linear subscriptions, OTT etc). This doesn't deter football fans. Social media allows fans to engage with football on their terms. They can follow the players, the teams and the personalities they want to; creating their footballing paradise. Every day they will receive posts lifting the lid on training, transfer gossip, betting tips and clips of great action including the sublime to the ridiculous. The insatiable appetite for football is why it's so popular with sponsors. The sponsors that integrate best that the clubs are the ones that drive the most out of their partnership. Media used to be bought in cost per thousand. Social media now allows media to be sold at a cost per billion. Let that sink in.



GGS - And with that mic drop, we will say thank you for your time, John. It's been a great and thought provoking conversation.
Written by Maya Herm