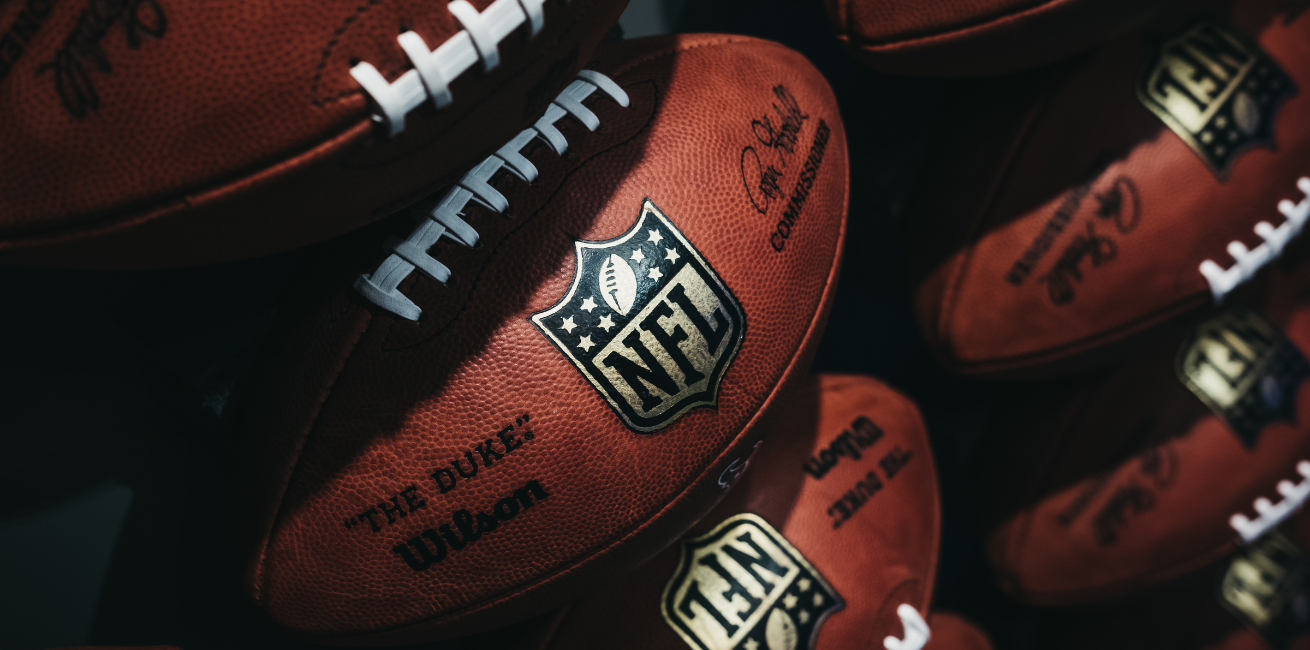 When it comes to sports advertising, you can't go wrong with an NFL sponsorship. Even though NFL viewership is declining slightly, the league still offers enormous viewership—and the opportunity to put your brand in front of millions of fans around the world.
This guide to sports sponsorship explores why brands advertise with the NFL, what makes it so lucrative, and what you can do to make sure your next campaign is a big hit.
The Power of NFL Viewership
The main reason brands partner with the NFL is the league's massive global reach. Despite its ratings dipping by 3 percent last season, NFL viewership still averaged 16.7 million viewers per week—with a total of 185 million fans tuning in at some point during the 18-week season.
Advertising with the NFL gives brands a chance to harness the buying power of loyal fans, grab their attention, and engage with them in myriad ways.
With that in mind, let's examine some top reasons businesses choose to explore sponsorship opportunities with the NFL.
Connect with Fans
Becoming an NFL sponsor allows your company to connect with fans and build loyalty—if you can speak their language. To do this, it's essential to use subtlety and authenticity, integrating your brand organically within the NFL culture. As an example, check out how Bud Light accomplished this with its legendary quinoa commercial—and notice how the company doesn't even directly mention the word "beer" in the commercial.
Influence with Branded Content
Many brands choose to create branded content that aligns with NFL themes and engages with fans through storytelling and shared values. Some examples include social impact, teamwork, inspiring and motivational messages, and humor. Since sponsorship and advertising themes tend to shift over time, you'll want to track what other brands are saying and add to the conversation uniquely.
Align with NFL Players and Teams
An NFL sponsorship also provides unique opportunities to collaborate with players and teams for endorsements and community initiatives. In addition, sponsorship can provide access to exclusive opportunities that can elevate your brand—such as networking opportunities and access to exclusive campaigns and events.
Case Studies: Successful Sponsorships
Sponsorships are becoming more and more competitive in the NFL, with brands across all industries lining up to take the field and enter the mix.
Most Lucrative Event: Super Bowl LVII
The most recent Super Bowl LVII generated the highest sponsor media value per exposure at $429,000—a 12 percent increase from 2022. In addition, Super Bowl LVII generated 113 million viewers. Brands advertising during this event gained valuable and unique exposure due to the abundance of LED placements inside the stadium.
Best Brand: Verizon
Verizon is the official wireless provider of the NFL, meaning the company has exclusive rights to mobile game streaming. As a result, Verizon is able to promote its mobile offerings and 5G network directly to NFL fans.
Hottest Industry: Gambling
As a whole, casinos and mobile gaming applications generated a record $54.93 billion in revenue in 2022—a trend bound to accelerate. Gambling is now a significant revenue stream for the NFL as states continue to legalize sports betting.
Strategies for Effective Sports Sponsorships
Buying an NFL sponsorship comes with massive brand exposure and marketing potential. But to maximize impact, there are some important things to remember.
Identify Target Demographics
As with any type of sponsorship opportunity, you have to know your audience. The NFL has a broad and diverse global audience with different attitudes, beliefs, and income levels. So before you advertise, it's critical to identify your target demographics and tailor your messaging to your exact audience.
Leverage Digital Platforms and Social Media
There's a world of sponsorship opportunities outside of traditional TV broadcasts. Brands that nail NFL sponsorships engage with fans through social media, print advertising, radio, mobile, and in-person interactions during games. If you want to score a touchdown with your campaign, get creative and expand outside traditional TV advertising.
Create Memorable Events
Fans attend NFL games for memorable and entertaining experiences. As a brand, one of the best things you can do is contribute to the fan experience. Hosting product giveaways, exclusive tailgating events, and providing supplementary content during games will make fans think more highly of your brand and provide valuable engagement experiences.
How to Ensure Your Campaign Pays Off
An NFL sponsorship is a great opportunity, but there's no guarantee that it will yield substantial results. Maximizing an NFL sponsorship requires careful planning, coordination, and monitoring.
Relo Metrics can help optimize your sports marketing campaigns with a platform that offers complete visibility into your sponsorship's digital value, market changes, and team performance. With Relo Metrics, you can gain the insights you need to produce more robust returns from your campaigns.
To learn more about the transformative impact Relo Metrics can have on sports sponsorship initiatives, request a demo today.