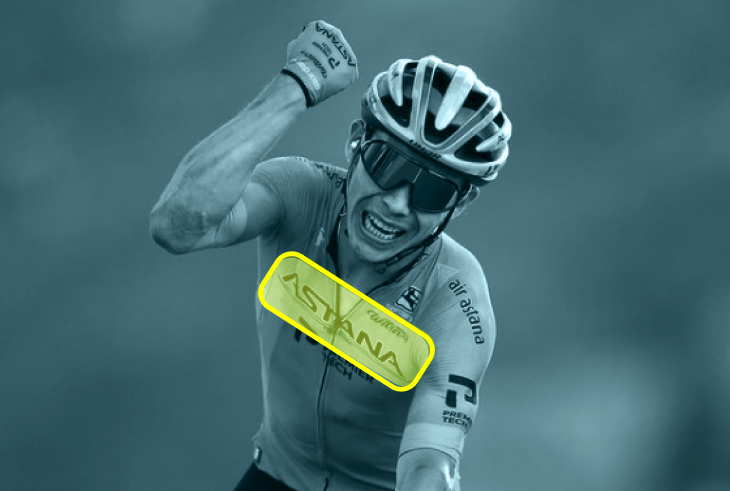 During the 2020 Tour de France, Relo Metrics observed interesting sponsorship data trends across broadcast TV and social media that revealed the different ways in which assets gained exposure and value across different platforms.
The way fans engage with social media platforms differs from how broadcasters air each stage of the Tour. As such, different assets thrive in different settings, with sponsor exposure varying significantly across platform types.
The below table showcases the breakout of the top-performing social media sponsor assets based on exposure rankings for the 2020 Tour de France (29 August 2020 - 20 September 2020):
Top Assets - Social Media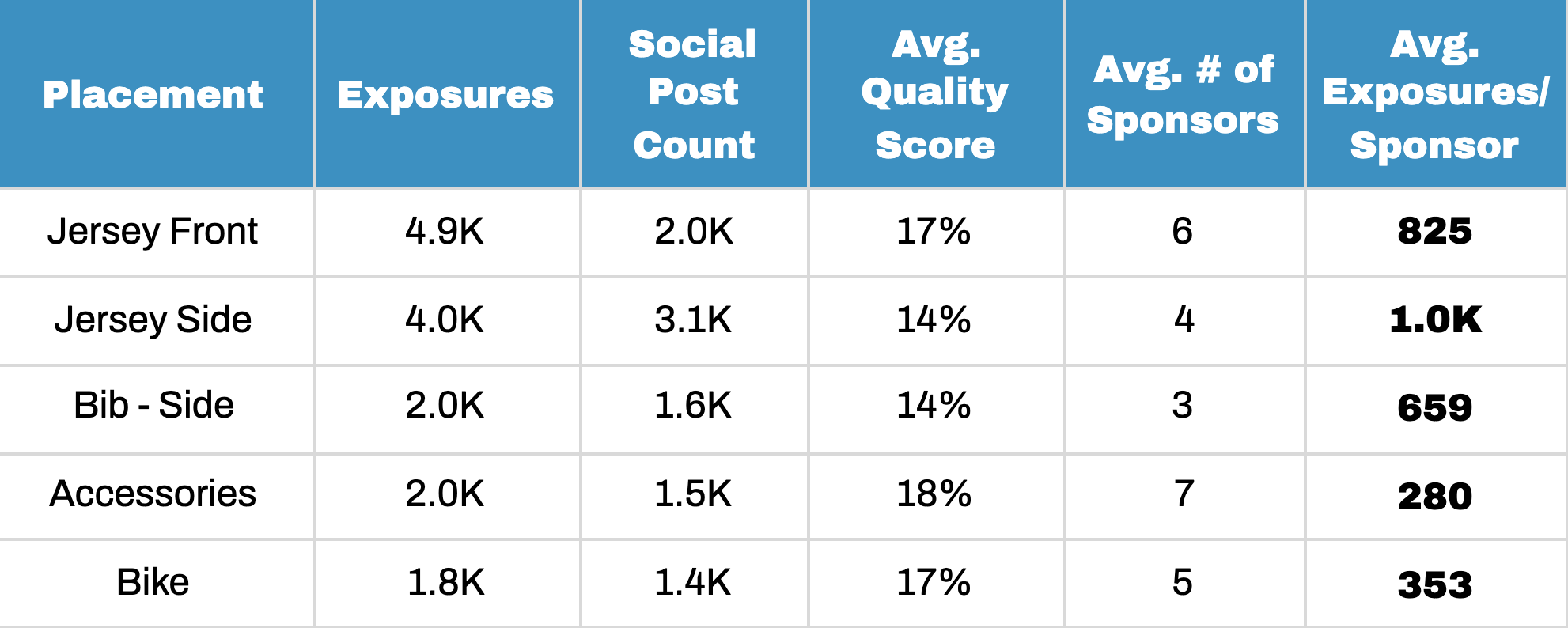 Key takeaways and recommendations:
Jersey assets across the front and side of a rider perform very well on social media. As noticed in this carousel, fans engage strongly with action photos where riders themselves are visible. It is important to ensure sponsors are clearly shown in the content to maximize the value brands can generate from these high-worth images & videos.


Similarly, accessories such as sunglasses, gloves, and drink bottles gain significant exposure in close-ups with riders, such as this post from last year's winner. Working with your social media teams to select high-quality and close-up shots will significantly improve the sponsor media value earned on a per post basis.


Rights holders need to utilize the right color combinations (ie. white writing on a black background), increase the size of logos, and use clear typography in text to ensure brands are highly visible on social media posts.
Furthermore, Relo Metrics tracked all stages during the 2020 Tour de France (29 August 2020 - 20 September 2020), ranking the top sponsor assets on broadcast TV based on exposure as follows:
Top Assets - Broadcast

Key takeaways and recommendations:
Assets on the back and side of the riders featured the most in terms of exposures, with certain assets featuring in the top 5 only on broadcast, largely due to the main camera angle deployed during the Tour.




Top finishes on mountain or hill stages lead to more exposures than those on a flat stage, due to riders arriving further apart. During the 2020 Tour de France, a podium finish on a mountain stage drove around 20,000 exposures for a team, whereas a strong performance on a flat stage generated around half this amount.


Rights holders should provide top-tier partners with the optimal asset location on a per-stage basis rather than a single location throughout a race to optimize the value they can generate. It is essential to make near real-time adjustments to increase sponsorship ROI throughout all stages of the race and not wait till the Tour is over.
Overall, sponsored assets on the rider, ranging from the front of the jersey to the sunglasses worn during a race, tend to drive strong exposure on social media. Rights holders need to ensure these assets are branded effectively and select proper images or videos that showcase clear and visible logos to maximize value for partners.
Due to the way races are broadcast, the assets on the back and side of the rider tend to perform better across television broadcasts, with the type of stage impacting the amount of exposure a brand receives. Rights holders need to work with their brands to ensure higher-tier partners receive the value and exposure they deserve.
Similarly, rights holders and brands need to work together when considering their pricing strategies with respect to sponsored assets. Factoring in how value is driven across different assets plays an important role and can shift the way brands engage with the properties they sponsor.
If you're curious about other league insights, check out our analysis on the Top 5 Sponsors from the 2021 Super Bowl, or feel free to go directly to our blog post page.
Written by Harshad Kale